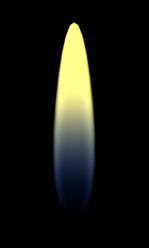 All through Christmas, this interior "vision" I had eight years ago has been on my heart, confirmed in a multitude of ways. We are living, and going to live it, in a very profound and real manner in the days to come.
It is a "prologue" to my next writing, and so I encourage you to read it—a living parable of our times…
The truth appeared like a great candle
lighting the whole world with its brilliant flame.
—St. Bernadine of Siena
A POWERFUL image came to me… an image that carries both encouragement and warning.
Those who have been following these writings know that their purpose has been specifically to prepare us for the times which lay directly ahead of the Church and world. They are not so much about catechesis as calling us into a safe Refuge.
THE SMOLDERING CANDLE 
I saw the world gathered as though in a dark room. In the center is a burning candle. It is very short, the wax nearly all melted. The Flame represents the light of Christ: Truth. [1]Note: this was written seven years before I had heard of the "Flame of Love" spoken of by Our Lady through the approved messages to Elizabeth Kindelmann. See the Related Reading. The wax represents the time of grace we live in. 
The world for the most part is ignoring this Flame. But for those who are not, those who are gazing at the Light and letting It guide them, something wonderful and hidden is happening: their inner being is secretly being set aflame.
There is rapidly coming a time when this period of grace will no longer be able to support the wick (civilization) due to the sin of the world. Events which are coming will collapse the candle completely, and the Light of this candle will be snuffed out. There will be sudden chaos in the "room."
He takes understanding from the leaders of the land, till they grope in the darkness without light; he makes them stagger like drunken men. (Job 12:25)
The deprivation of Light will lead to great confusion and fear. But those who had been absorbing the Light in this time of preparation we are now in will have an inner Light by which to guide them (for the Light can never be extinguished). Even though they will be experiencing the darkness around them, the inner Light of Jesus will be shining brightly within, supernaturally directing them from the hidden place of the heart.
Then this vision had a disturbing scene. There was a light in the distance… a very small light. It was unnatural, like a small fluorescent light. Suddenly, most in the room stampeded towards this light, the only light they could see. For them it was hope… but it was a false, deceptive light. It did not offer Warmth, nor Fire, nor Salvation—that Flame which they had already refused.  
…in vast areas of the world the faith is in danger of dying out like a flame which no longer has fuel. —Letter of His Holiness Pope Benedict XVI to All the Bishops of the World, March 12, 2009; Catholic Online

It is precisely at the end of the second millennium that immense, threatening clouds converge on the horizon of all humanity and darkness descends upon human souls.  —POPE JOHN PAUL II, from a speech, December, 1983; www.vatican.va
NOW IS THE TIME
The Scripture of the ten virgins came to mind immediately following these images. Only five of the virgins had enough oil in their lamps to go out and meet the Bridegroom who came in the darkness of "midnight" (Matthew 25:1-13). That is, only five virgins had filled their hearts with the necessary graces to give them the light to see. The other five virgins were unprepared saying, "…our lamps are going out," and went off to buy more oil from the merchants. Their hearts were unprepared, and so they sought the "grace" they needed… not from a Pure Source, but from deceptive peddlers.
Again, the writings here have been for one purpose: to help you acquire this divine oil, that you may be marked by God's angels, that you may see with a divine light through that day when the Son will be eclipsed for a brief period of time, plunging mankind into a painful, dark moment.
FAMILIES
We know from our Lord's words that these days are going to catch many off guard like a thief in the night:
As it was in the days of Noah, so will it be in the days of the Son of Man. They ate and drank, they took husbands and wives, right up to the day Noah entered the ark—and when the flood came it destroyed them all.

It was much the same in the days of Lot: they ate and drank, they bought and sold, they built and planted. But on the day Lot left Sodom, fire and brimstone rained down from heaven and destroyed them all. It will be like that on the day the son of Man is revealed… Remember Lot's wife. Whoever tries to preserve his life will lose it; whoever loses it will keep it. (Luke 17:26-33)
Several of my readers have written, alarmed that their family members are slipping away, becoming more and more hostile to the Faith.
In our days, when in vast areas of the world the faith is in danger of dying out like a flame which no longer has fuel, the overriding priority is to make God present in this world and to show men and women the way to God. Not just any god, but the God who spoke on Sinai; to that God whose face we recognize in a love which presses "to the end" (cf. Jn 13:1)—in Jesus Christ, crucified and risen. The real problem at this moment of our history is that God is disappearing from the human horizon, and, with the dimming of the light which comes from God, humanity is losing its bearings, with increasingly evident destructive effects.—Letter of His Holiness Pope Benedict XVI to All the Bishops of the World, March 10, 2009; Catholic Online
There is indeed a sifting and purification happening as we speak. However, because of your prayers and because of your faithfulness to Jesus, I believe they will be granted great graces when the Spirit of God opens all hearts to see their souls as the Father sees them—that incredible gift of Mercy which is drawing closer. The antidote to this apostasy within your family ranks is the Rosary. Read again The Coming Restoration of the Family. 
You are chosen by God, not to save yourself, but to be the instrument of salvation for others. Your model is Mary who surrendered herself completely to God thereby becoming a co-operator in redemption—the Co-redemptrix of many. She is a symbol of the Church. What applies to her applies to you. You too are to become a co-redeemer with Christ through your prayers, witness, and suffering. 
Coincidently, these two readings are from today's (Jan. 12th, 2007) Office and Mass:
Those who have been considered worthy to go forth as the sons of God and to be born again of the Holy Spirit from on high, and who hold within them the Christ who renews them and fills them with light, are directed by the Spirit in varied and different ways and in their spiritual repose they are led invisibly in their hearts by grace. —Homily by spiritual writer of the fourth century; Liturgy of the Hours, Vol. III, pg. 161

The LORD is my light and my salvation; whom should I fear? The LORD is my life's refuge; of whom should I be afraid? 

Though an army encamp against me, my heart will not fear; Though war be waged upon me, even then will I trust.

For he will hide me in his abode in the day of trouble; He will conceal me in the shelter of his tent, he will set me high upon a rock. (Psalm 27)
And last, from St. Peter:
We possess the prophetic message that is altogether reliable. You will do well to be attentive to it, as to a lamp shining in a dark place, until day dawns and the morning star rises in your hearts. (2 Pt 1:19)
First published January 12th, 2007.

RELATED READING: