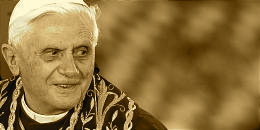 There is not only a physical deafness … there is also a 'hardness of hearing' where God is concerned, and this is something from which we particularly suffer in our own time. Put simply, we are no longer able to hear God—there are too many different frequencies filling our ears. —Pope Benedict XVI, Homily; Munich, Germany, September 10, 2006; Zenit
When this happens, there is nothing left for God to do, but speak louder than us! He is doing it now, through His Pope.
The world needs God. We need God, but what God? The definitive explanation is to be found in the one who died on the Cross: in Jesus, the Son of God incarnate … love to the end. —Ibid.

If we fail to listen to "Peter", Christ's vicar, what then?
Our God comes, he keeps silence no longer… (Psalm 50:3)