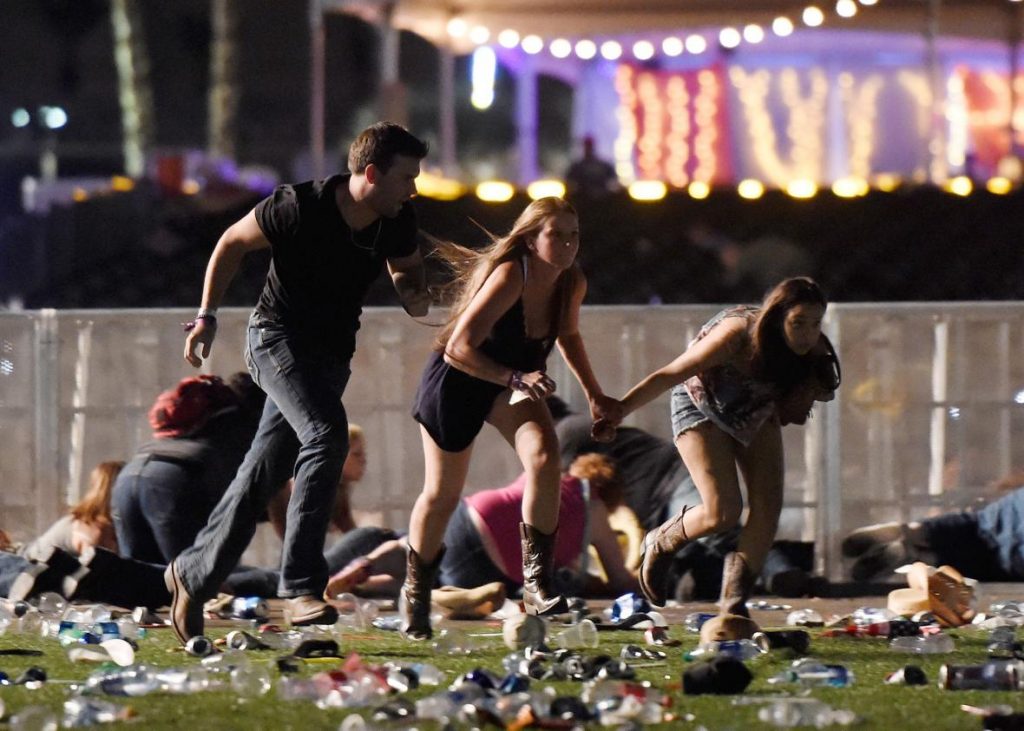 Mass Shooting, Las Vegas, Nevada, October 1, 2017; David Becker/Getty Images
My older daughter sees many beings good and bad [angels] in battle. She has spoken many times about how its an all out war and its only getting bigger and the different kinds of beings. Our Lady appeared to her in a dream last year as our Lady of Guadalupe. She told her that the demon coming is larger and fiercer than all the others. That she is not to engage this demon nor listen to it. It was going to try to take over the world. This is a demon of fear. It was a fear that my daughter said was going to envelop everyone and everything. Staying close to the Sacraments and Jesus and Mary are of the utmost importance. —A letter from a reader, September, 2013
TERROR in Canada. Terror in France. Terror in the United States. That's just the headlines of the past few days. Terror is the footprint of Satan, whose chief weapon in these times is fear. For fear keeps us from becoming vulnerable, from trusting, from entering into relationship… whether it is between spouses, family members, friends, neighbours, neighbouring nations, or God. Fear, then, leads us to control or give up control, to restrict, build walls, burn bridges, and repel. St. John wrote that "perfect love drives out all fear." [1]1 John 4:18 As such, one could also say that perfect fear drives out all love.
Fear is also the terrible side-effect of sin because we are made in the image of God, who is Love. So when we break His divine law, it is an arrow through the heart of our very being… and we sense this; we know it deep in our souls where the natural law is written, and thus, our reflex is to flee from the light that exposes this naked truth.
…the man and his wife hid themselves from the Lord God among the trees of the garden. The Lord God then called to the man and asked him: Where are you? He answered, "I heard you in the garden; but I was afraid, because I was naked, so I hid." (Gen 3:8-10)
Thousands of years later, nothing has changed, which is why Jesus foresaw how the pride of men would unfold in the "end times."
…many will be led into sin; they will betray and hate one another. Many false prophets will arise and deceive many; and because of the increase of evildoing, the love of many will grow cold. (Matt 24:10-12)
That is, a brief reign of fear and terror would come, [2]cf. Rev 13 until the Lord puts an end to it. 
THE WORST CHASTISEMENT
According to a recent poll, a majority of Americans believe their country is "going to hell in a handbasket." The same poll found that voters on both sides of the political spectrum believe that people are more rude than ever. [3]cf. thehill.com, Sept. 29th It's safe to assume that this is being seen all over the world, if we are to believe the daily headlines. 
…there will be terrifying times in the last days. People will be self-centered and lovers of money, proud, haughty, abusive, disobedient to their parents, ungrateful, irreligious, callous, implacable, slanderous, licentious, brutal, hating what is good, traitors, reckless, conceited, lovers of pleasure rather than lovers of God, as they make a pretense of religion but deny its power. (2 Tim 3:1-5)
At a conference I spoke at recently, one of the speakers said—to the applause of the audience—that he believes "the chastisement has already begun." In Catholic prophecy-speak, "the chastisement" refers to God's judgment upon the nations. However, I think the worst chastisement is not what God could do, but that He would simply do nothing. That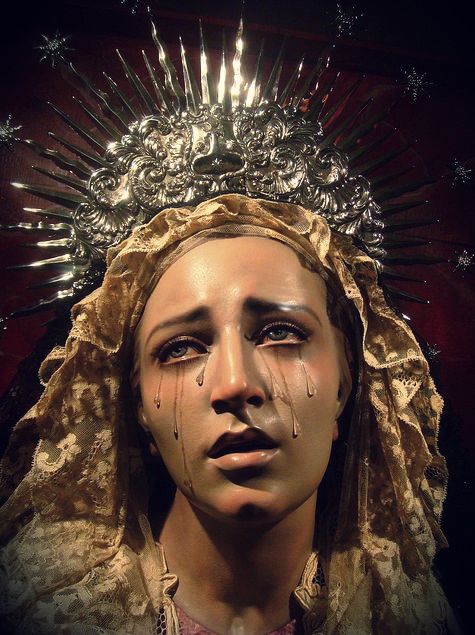 the Father would allow this poor humanity to continue on its course of self-destruction, much like the prodigal son. It is not the prospect that fire may fall from heaven that is troubling to me, but that men themselves would rain down fire upon each other with their nuclear weapons; that we would continue The Great Poisoning of our children and grandchildren; that Islam would continue to spread its Jihad against freedom; that ethnic cleansing would continue to rage; that Satan would continue to possess and inspire lone terrorists; that pornography would continue to destroy our young men and fathers; that the Church would continue to compromise and quarrel; that progressive governments would continue to re-write the natural law while banning freedom of speech and religion; that corporations would continue to exploit and manipulate; that economies would continue to oppress and enslave. No, it is not the Father in Heaven who I am afraid of, but what man himself can and is doing to himself. [4]cf. The Progression of Man
And let us not say that it is God who is punishing us in this way; on the contrary it is people themselves who are preparing their own punishment. In his kindness God warns us and calls us to the right path, while respecting the freedom he has given us; hence people are responsible. –Sr. Lucia, one of the Fatima visionaries, in a letter to the Holy Father, May 12th, 1982; vatican.va 
As we heard the Lord ask in yesterday's first Mass reading:
Is it my way that is unfair, or rather, are not your ways unfair? (Ezekiel 18:25)
According to visionaries I have spoken to and read from all over the world, we are now entering into the long-foretold "decisive times" that Heaven has been warning about for centuries. The fact that it is 2017, and I am even able to write these words today, is a sign that God has been incredibly merciful to us in what are surely the most rebellious times since Noah.
THE NEW BIRTH
But here is where you and I, dear reader, must gather our strength and courage and refocus our eyes on the triumph that is coming. As Jesus said to Servant of God Luisa Piccarreta:
Ah, my daughter, the creature always races more into evil. How many machinations of ruin they are preparing! They will go so far as to exhaust themselves in evil. But while they occupy themselves in going their way, I will occupy Myself with the completion and fulfillment of My Fiat Voluntas Tua  ("Thy will be done") so that My Will reign on earth—but in an all-new manner. Ah yes, I want to confound man in Love! Therefore, be attentive. I want you with Me to prepare this Era of Celestial and Divine Love… —Jesus to Servant of God, Luisa Piccarreta, Manuscripts, Feb 8th, 1921; excerpt from The Splendor of Creation, Rev. Joseph Iannuzzi, p.80
That is why I have been writing the past few weeks about Going Into the Deep by first Understanding the Cross and how we are truly Participating in the supernatural life of Jesus, and how our Daily Cross is the beginning of going into the depths. As I said at that conference, "I am not preparing you for the coming of antichrist, but for Christ!"
It is by following Our Lord in His Passion and Death that the Church will be reclothed in His Resurrection. [5]cf. Catechism of the Catholic Church, n. 677 Yes, according to the early Church Fathers, when Jesus puts an end to the reign of terror that Satan is presently inflicting on this world, He will inaugurate a new Day, an era of true peace and love between men "as a witness to all nations, and then the end will come." [6]Matt 24:14
He seized the dragon, the ancient serpent, which is the Devil or Satan, and tied it up for a thousand years and threw it into the abyss, which he locked over it and sealed, so that it could no longer lead the nations astray until the thousand years are completed. (Rev 20:1-3)

Behold, the Day of the Lord shall be a thousand years. —Letter of Barnabas, The Fathers of the Church, Ch. 15

Now… we understand that a period of one thousand years is indicated in symbolic language. —St. Justin Martyr, Dialogue with Trypho, Ch. 81, The Fathers of the Church, Christian Heritage
A "thousand" simply means an extended period of time, [7]see Millenarianism—What it is, and is Not however long that may be, when wisdom will be vindicated, the Gospel will permeate every corner of the earth, and the Bride of Christ will be purified and prepared for the final coming of Jesus in glory. 
Your divine commandments are broken, your Gospel is thrown aside, torrents of iniquity flood the whole earth carrying away even your servants… Will everything come to the same end as Sodom and Gomorrah?  Will you never break your silence?  Will you tolerate all this for ever?  Is it not true that your will must be done on earth as it is in heaven?  Is it not true that your kingdom must come?  Did you not give to some souls, dear to you, a vision of the future renewal of the Church? …All creatures, even the most insensitive, lie groaning under the burden of Babylon's countless sins and plead with you to come and renew all things:  omnis creatura ingemiscit, etc., the whole creation is groaning… —St. Louis de Montfort, "Prayer for Missionaries", n. 5; www.ewtn.com
This is what Our Lady has come to prepare the Church for: a "period of peace" in which her Son will reign in both the Eucharist and the interior life of the Church in a "new and divine holiness." [8]cf. The Coming New and Divine Holiness
Whenever the Church Fathers speak of a Sabbath rest or era of peace, they do not foretell a return of Jesus in the flesh nor the end of human history, rather they accentuate the Holy Spirit's transforming power in the sacraments that perfects the Church, so that Christ may present her to himself as an immaculate bride upon his final return. —Rev. J. L. Iannuzzi, Ph.B., STB, M.Div., STL, STD, Ph.D., theologian, The Splendor of Creation, p. 79
This has been the hope and prophetic expectation of a past century of popes: [9]see The Popes, and the Dawning Era and What If…?
The task of humble Pope John is to "prepare for the Lord a perfect people," which is exactly like the task of the Baptist, who is his patron and from whom he takes his name. And it is not possible to imagine a higher and more precious perfection than that of the triumph of Christian peace, which is peace at heart, peace in the social order, in life, in wellbeing, in mutual respect, and in the brotherhood of nations. —POPE JOHN XXIII, True Christian Peace, December 23rd, 1959; www.catholicculture.org

It will at length be possible that our many wounds be healed and all justice spring forth again with the hope of restored authority; that the splendors of peace be renewed, and the swords and arms drop from the hand and when all men shall acknowledge the empire of Christ and willingly obey His word, and every tongue shall confess that the Lord Jesus is in the Glory of the Father. —POPE LEO XIII, Consecration to the Sacred Heart, May 1899
As such, under the solicitation of St. John Paul II to all the youth, I find myself also one of the…
…watchmen who proclaim to the world a new dawn of hope, brotherhood and peace.—POPE JOHN PAUL II, Address to the Guanelli Youth Movement, April 20th, 2002, www.vatican.va
Yet, it should be clear to all that a painful transition has already begun, as relations between nations, peoples, and families continue to disintegrate in a moral free-fall. We need to pray, not for chastisement, but for repentance—that man would rediscover himself again in Christ. While Jesus described all of this as "the beginning of the labor pains," [10]cf. Matt 24:8; Mark 13:8 He also reminded us to put everything in context:
When a woman is in labor, she is in anguish because her hour has arrived; but when she has given birth to a child, she no longer remembers the pain because of her joy that a child has been born into the world. (John 16:21)

In spite of Satan's anger, the Divine Mercy will triumph over the whole world and will be worshiped by all souls. —Divine Mercy in My Soul, Diary of St. Faustina, n. 1789

Lo, I will rescue my people from the land of the rising sun, and from the land of the setting sun. I will bring them back to dwell within Jerusalem. They shall be my people, and I will be their God, with faithfulness and justice. (Today's first Mass reading)
RELATED READING
The Popes, and the Dawning Era
Millenarianism—What it is, and is Not
Dear Holy Father… He is Coming!
Bless you and thank you for
supporting this ministry.

To journey with Mark in the The Now Word,
click on the banner below to subscribe.
Your email will not be shared with anyone.