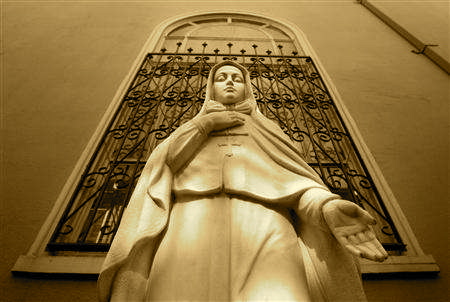 Outside St. Louis Cathedral, New Orleans 
A FRIEND wrote me today, on this Memorial of the Queenship of the Blessed Virgin Mary, with a spine-tingling story: 
Mark, an unusual incident occurred on Sunday. It happened as follows:

My husband and I celebrated our thirty-fifth wedding anniversary over the week-end. We went to Mass on Saturday, then out to dinner with our associate pastor and some friends, we later attended an outdoor drama "The Living Word." As as anniversary gift a couple gave us a beautiful statue of our Lady with the baby Jesus.

On Sunday morning, my husband placed the statue in our entry-way, on a plant ledge above the front door. A while later, I went out on the front porch to read the bible. As I sat down and started to read, I glanced down into the flower bed and there lay a tiny crucifix ( I have never seen it before and I have worked in that flower bed many times!) I picked it up and went to the back deck to show my husband. I then came inside, placed it on the curio rack, and went to the porch again to read.

As I sat down, I saw a snake in the exact spot where the crucifix was.