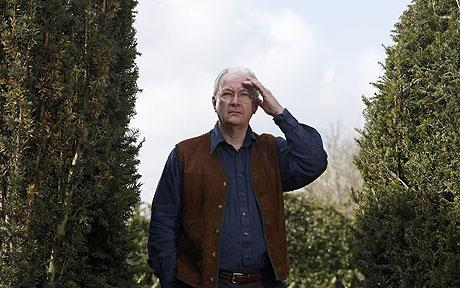 Philip Pullman; Photo: Phil Fisk for the Sunday Telegraph
I AWOKE at 5:30 this morning, the wind howling, snow blowing. A lovely spring storm. So I threw on a coat and a hat, and headed out into the blistering winds to save Nessa, our milk cow. With her safely in the barn, and my senses rather rudely awakened, I wandered into the house to find an interesting article by an atheist, Philip Pullman.
With the swagger of one who hands in an exam early while fellow students remain to sweat over their answers, Mr. Pullman briefly explains how he abandoned the myth of Christianity for the reasonableness of atheism. What caught my attention most, though, was his answer to how many will argue that Christ's existence is evident, in part, through the good His Church has done:
However, the people who use that argument seem to imply that until the church existed no one ever knew how to be good, and no one could do good now unless they did it for reasons of faith. I simply don't believe that. —Philip Pullman, Philip Pullman on the Good Man Jesus & The Scoundrel Christ, www.telegraph.co.uk, April 9th, 2010
But the essence of this statement is puzzling, and in fact, presents a serious question: can there be a 'good' atheist?