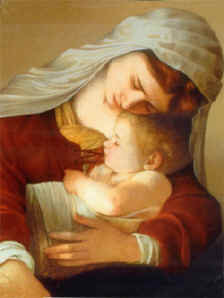 AS I embark on the last leg of my pilgrimage homeward bound (standing here at a computer terminal in Germany), I want to tell you that each day I have prayed for all of you my readers and those whom I promised to carry in my heart. No… I have stormed heaven for you, lifting you up at Masses and praying countless Rosaries. In many ways, I feel this journey was also for you. God is doing and speaking much in my heart. I have many things bubbling up in my heart to write you!
I pray to God that this day also, you will give your whole heart to Him. What does this mean to give Him your whole heart, to "open wide your heart"? It means to give over to God every detail of your life, even the smallest. Our day is not just one big glob of time—it is made up of each moment. Can you not see then that in order to have a blessed day, a holy day, a "good" day, then each moment must be consecrated (given over) to Him?
It is as though each day we sit down to make a white garment. But if we neglect each stitch, choosing this color or that, it will not be a white shirt. Or if the whole shirt is white, but one thread runs through that is black, then it stands out. See then how each moment counts as we weave through each event of the day.
O my beloved friend, if we only knew the joy of surrendering to God each passing moment! Because it is God who authors it. Yes, absolutely every moment and event in life is permitted by God for our good.
All things work to the good for those who love God. (Romans 8:28)
Paul says "all things". But we must cooperate with "all things", all moments, in order for them to work to the good. So when a pail of paint falls on your head, or you miss your ride (read yesterday's message), or you can't find your keys, understand that the Lord of time and history has permitted this for you. In embracing the moment, whatever it brings, you will draw into your soul whatever God intends—crosses and consolations alike.
But you must pray in order to have the eyes of faith to see this, and the grace to live it. It is not automatic. God's will is your food, but not fast food! We have to walk in the Spirit in order to live by the Spirit, and this requires our attention, effort, and yes sacrifice. Mary will help you immeasurably if you ask her!
Through prayer, you will discover God and open new vistas—life-changing vistas. If that sounds over-simplistic, don't be surprised! Didn´t Jesus say that the kingdom belongs to little children? The graces that await us! But we must seek them in order to find them. This seeking is called prayer. Turn off the radio and TV, and you will find what you're looking for.
You are so loved by God. I pray that the Mother of Jesus will be with you in a special way this day so that you will experience Jesus's love and mercy in the depths of your soul.
Soon I will be home. Pray for me!