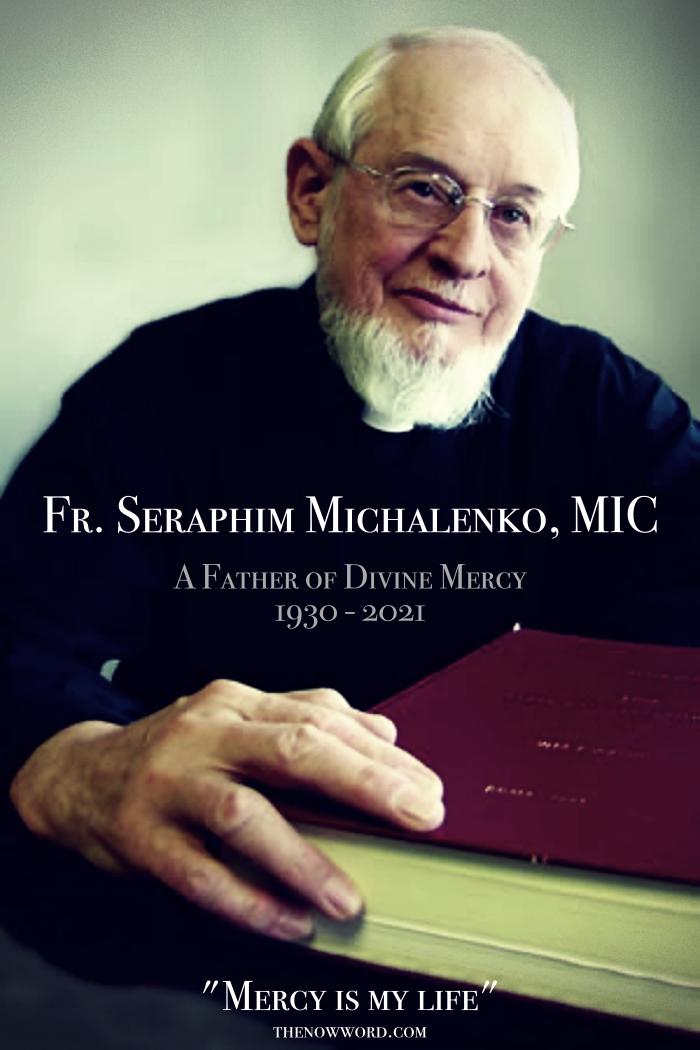 I HAD the pleasure of speaking alongside Fr. Seraphim Michalenko, MIC in California at a few churches some eight years ago. During our time in the car, Fr. Seraphim confided to me that there was a time when the diary of St. Faustina was in danger of being totally suppressed due to a bad translation. He stepped in, however, and fixed the translation, which paved the way for her writings to be disseminated. He eventually became the Vice Postulator for her canonization.
A few years ago, someone recounted to me an announcement that was made at a gathering with Fr. Seraphim evidently present,
[1]
I initially reported that it was an office at the Vatican, which is how it was recounted to me (it was apparently a bishop who made the announcement at Fr. Seraphim's birthday gathering); however, the Marians of the Immaculate Conception stated in a video on February 13th, 2021, where they cite this blog, that they have no information on a Vatican connection. cf. 1:23:52 mark at YouTube.com
that a certain passage in St. Faustina's diary referred to her canonization, and the initials S.M. to Fr. "Seraphim Michalenko".
Today, I saw two enormous pillars implanted in the ground; I had implanted one of them, and a certain person, S.M., the other. We had done so with unheard-of effort, much fatigue and difficulty. And when I had implanted the pillar, I myself wondered where such extraordinary strength had come from. And I recognized that I had not done this by my own strength, but with the power which came from above. These two pillars were close to each other, in the area of the image. And I saw the image, raised up very high and hanging from these two pillars. In an instant, there stood a large temple, supported both from within and from without, upon these two pillars. I saw a hand finishing the temple, but I did not see the person. There was a great multitude of people, inside and outside the temple, and the torrents issuing from the Compassionate Heart of Jesus were flowing down upon everyone.  —St. Faustina, Divine Mercy in My Soul, Diary, n. 1689; May 8, 1938
Remarkably, he accidentally was left at the back of the crowd during her canonization — which is why he was not seen.
Fr. Seraphim was part of the order of the Marians of the Immaculate Conception. He died February 11th, the feast day of Our Lady of Lourdes, who announced herself as "The Immaculate Conception." Thank you, Fr. Seraphim. You paved the way for us to receive the message of Divine Mercy. May you be enveloped now in the eternal rest within the Compassionate Heart of Jesus.
RELATED READING
Listen to Mark on the following:

Join me now on MeWe:

To journey with Mark in The Now Word,
click on the banner below to subscribe.
Your email will not be shared with anyone.


Footnotes

↑

1
I initially reported that it was an office at the Vatican, which is how it was recounted to me (it was apparently a bishop who made the announcement at Fr. Seraphim's birthday gathering); however, the Marians of the Immaculate Conception stated in a video on February 13th, 2021, where they cite this blog, that they have no information on a Vatican connection. cf. 1:23:52 mark at YouTube.com