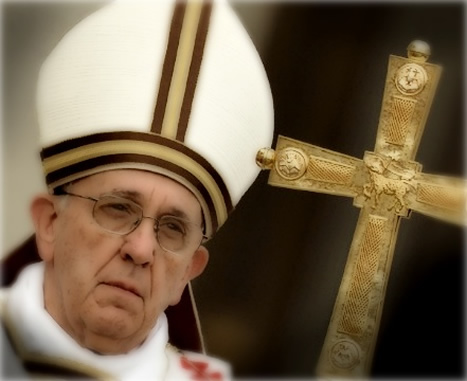 IN February last year, shortly after Benedict XVI's resignation, I wrote The Sixth Day, and how we appear to be approaching the "twelve o'clock hour," the threshold of the Day of the Lord. I wrote then,
The next pope will guide us too… but he is ascending a throne that the world wishes to overturn. That is the threshold of which I am speaking.
As we look at the world's reaction to the pontificate of Pope Francis, it would seem the opposite. Hardly a news day goes by that the secular media isn't running some story, gushing over the new pope. But 2000 years ago, seven days before Jesus was crucified, they were gushing over Him too…
THE ENTRY INTO JERUSALEM
I believe Pope Francis, with the help of his predecessors, is indeed ascending a throne… but not the throne of power or popularity, but of the Cross. Let me explain…
As Jesus ascended, or rather, "was going up to Jersualem," He took His disciples aside and said to them,
Behold, we are going up to Jerusalem, and the Son of Man will be handed over… to be mocked and scourged and crucified, and he will be raised on the third day. (Matt 20:18-19)
But the entry into Jerusalem was to be prophetic in nature:
Jesus sent two disciples, saying to them, "Go into the village opposite you, and immediately you will find an ass tethered, and a colt with her." (Matt 21:2; cf. Zech 9:9)
The ass symbolizes the humility of Christ and the colt, a "beast of burden," [1]cf. Zec 9:9 His poverty. These are the two "marks" by which Christ enters the Holy City, enters His Passion.
These are undoubtedly the two keystones which have defined Pope Francis. He has shunned limos for a small car; the papal palace for an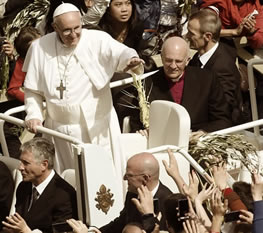 apartment; regalia for simplicity. His humility has become renowned in a very short time.
When Jesus entered Jerusalem, He was instantly loved, so much so, that the people took off their cloaks, laid them on the ass and colt, and "he sat upon them." So too, Pope Francis has been lauded by the leftist media, applauded by liberals, and cheered by atheists. They have laid out their television segments and news columns for the Holy Father while crying out, "Blessed is he who comes in our name!"
Yes, when Jesus entered Jerusalem, He literally shook the place.
…when he entered Jerusalem the whole city was shaken and asked, "Who is this?" And the crowds replied, "This is Jesus the prophet, from Nazareth in Galilee." (Matt 21:10)
That is, the people did not understand truly who Jesus was.
Some say John the Baptist, others Elijah, still others Jeremiah or one of the prophets. (Matt 16:14)
Ultimately, many believed Jesus was the one who had come to deliver them from the Roman oppressors. And yet others said, "Isn't this the son of a carpenter?"
So too, many have misunderstood who this bouncer-turned-cardinal-turned-pope is. Some believe he has come to "at last" set the Church free from the patriarchal oppression of past popes. Others say he is the new champion of Liberation Theology.
Some say a conservative, others a liberal, still others a Marxist or one of the Communists.
But when Jesus asked who do you say that I am? Peter replied, "You are the Messiah, the Son of the Living God." [2]Matt 16:16
Who, really, is Pope Francis? In his own words, "I am a son of the Church." [3]cf. americamagazine.org, Sept. 30, 2103
PREPARING FOR PASSION
After Jesus entered Jerusalem and the din of praise simmered, His true mission began to be revealed—to the dismay of the people. His first act was to cleanse the temple, overturning the tables of the money-changers and seats of the sellers. The very next thing?
The blind and the lame approached him in the temple area, and he cured them. (Matt 21:14)
After being elected, Pope Francis set about preparing his first Apostolic Exhortation, Evangelii Gaudium. In it, the Holy Father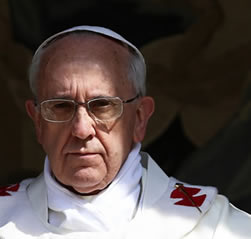 likewise began turning over the tables of the money-changers, attacking "an economy [that] kills" and the "dictatorship of an impersonal economy lacking a truly human purpose." [4]Evangelii Gaudium, n. 53-55 His words, based on the Church's social doctrine, were an indictment particularly of "unbridled consumerism" and a corrupt stock exchange system that has created "a new tyranny" and a "deified market", "a new idolatry of money" where "ethics has come to be viewed with a certain scornful derision." [5]Evangelii Gaudium, n. 60, 56, 55, 57 His accurate and stinging depiction of the imbalance in wealth and power immediately (and predictably) drew the anger and ire of those who had only applauded him weeks before.
Furthermore, the Holy Father has set about to reform the Vatican Bank, which itself has been troubled by allegations of corruption. A cleansing of the temple indeed!
As for the Pope, he continued to shun opulence, choosing instead to be with the people.
I prefer a Church which is bruised, hurting and dirty because it has been out on the streets, rather than a Church which is unhealthy from being confined and from clinging to its own security. —POPE FRANCIS, Evangelii Gaudium, n. 49
It was after His entry into Jerusalem, also, that Jesus taught the "greatest commandment": to "love the Lord, your God, with all your heart… and your neighbour as yourself." [6]Matt 22:37-40 Likewise, the Holy Father made "love of neighbour" through service to the poor and evangelization central themes of his Exhortation.
But after exhorting the people to live the great commandments, Jesus did something else seemingly out of character: he publicly denounced the Scribes and Pharisees in no uncertain terms calling them "hypocrites… blind guides… whitewashed tombs…" and took them to task for seeking titles, [7]cf. Matt 23:10 keeping silent, [8]cf. Matt 23:13 and self-indulgence. [9]cf. Matt 23:25
Likewise, the gentle Pope Francis has also boldly challenged those who have lost the meaning of authentic Christian love, most especially the clergy. He has admonished those who are "obsessed with the transmission of a disjointed multitude of doctrines to be imposed insistently." [10]cf. americamagazine.org, Sept. 30, 2103 He has criticized religious and clergy fo
r buying new vehicles encouraging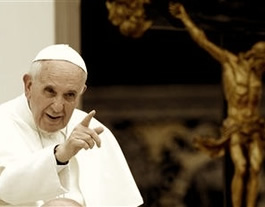 them to "choose a more humble one." [11]reuters.com; Jul. 6th, 2013 He has lamented those who take "over the space of the Church" for "programmes of self-help and self-realization" and [12]Evangelii Gaudium, n. 95 churchmen with a "business mentality, caught up with management, statistics, plans and evaluations whose principal beneficiary is not God's people but the Church as an institution." [13]Ibid. , n. 95 He has called out the "worldliness" of the Church that leads to "complacency and self-indulgence." [14]Ibid. n. 95 He has framed homilists who do not properly prepare their sermons as being "dishonest and irresponsible" and even "a false prophet, a fraud, a shallow impostor." [15]Ibid. n. 151 He described those who promote and imbibe clericalism as "little monsters." [16]National Post, January 4th, 2014 And, as for titles, Francis, in an effort to curb careerism in the Church, has abolished the honor of "Monsignor" for secular priests under the age of 65. [17]Vatican Insider; Jan 4th, 2014 Last, the Holy Father is planning to renovate the Curia, which no doubt, will upset the balance of power that has built-up over years among many "career Catholics."
The night before He gave Himself up, Jesus washed the feet of His disciples, scandalizing Peter. So too, this pope washed the feet of prisoners and Muslim women, scandalizing some Catholics, as it was a break with liturgical rubric. It was also during the week leading up to His Passion that Jesus spoke about being a "faithful and prudent servant"; not burying one's talent; giving preference to the poor; and also when He gave his addresses on the "end times." Likwise, Francis has called the whole Church to a new evangelization, to courage in using one's talents, to giving preference to the poor, and he noted that we are entering an "epochal change." [18]Evangelii Gaudium, n. 52; These are themes throughout the Apostolic Exhortation
THE PASSION OF THE CHURCH
While some commentators like to disparage Benedict XVI as cold and John Paul II as doctrinally rigid, they are in for a surprise if they think Pope Francis is a departure from truth. If you read Evangelii Gaudium, you will find that it is built, quote after quote, from the statements of previous pontiffs. Francis is standing on shoulders made of "rock" that go back 2000 years. No doubt, the Holy Father is loved (and not so-loved) for his manner of speaking off-the-cuff. But he himself says:
To speak from the heart means that our hearts must not just be on fire, but also enlightened by the fullness of revelation… —Evangelii Gaudium, n. 144
In Vatican City, he repeated the necessity to be faithful to the "fullness of revelation":
Confess the Faith! All of it, not part of it! Safeguard this faith, as it came to us, by way of tradition: the whole Faith! —ZENIT.org, January 10th, 2014
It is precisely this "faithfulness" to truth that upset Christ's enemies. It was his "cleansing of the temple" that fomented adversaries. It was His challenge to the status quo of the religious powers that ultimately hatched their plan to crucify Him. Indeed, many of those who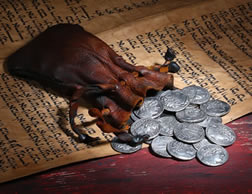 had once laid their cloaks down at Christ's feet would eventually tear one from His body.
And yet, it was during Passion Week that Christ's most powerful witness was given, from His tenderness for the poor, to the washing of His disciple's feet, to the forgiveness of His enemies. I believe this is precisely what this "new chapter of evangelization", [19]Evangelii Gaudium, n. 261 as Francis puts it, is all about. Evangelii Gaudium is a call to the Church, and as individuals, to mount "the ass and colt", to enter into a deep spirit of humility, conversion, and poverty. It is a preparation to evangelize along the Way of the Cross that is inevitable for the Church…
…when she will follow her Lord in his death and Resurrection. —Catechism of the Catholic Church, n.677
The world is watching Francis, and right now they mostly love him. But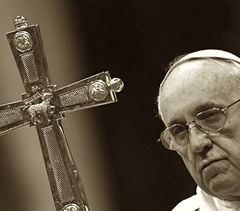 Francis is also watching the Church and the world, and his love for them is starting to make some very uncomfortable. That may very well be another "sign of the times" that the Rise of the Beast and the Passion of the Church are drawing closer than many realize.
I do exhort all the communities to an "ever watchful scrutiny of the signs of the times". This is in fact a grave responsibility, since certain present realities, unless effectively dealt with, are capable of setting off processes of dehumanization which would then be hard to reverse. —POPE FRANCIS, Evangelii Gaudium, n. 51
RELATED READING
To receive The Now Word, Mark's daily Mass reflections,
click on the banner below to subscribe.
Your email will not be shared with anyone.


Spiritual Food for Thought is a full-time apostolate.
Will you help me this year with your prayers and tithes?


Footnotes

↑

1
cf. Zec 9:9

↑

2
Matt 16:16

↑

3
cf. americamagazine.org, Sept. 30, 2103

↑

4
Evangelii Gaudium, n. 53-55

↑

5
Evangelii Gaudium, n. 60, 56, 55, 57

↑

6
Matt 22:37-40

↑

7
cf. Matt 23:10

↑

8
cf. Matt 23:13

↑

9
cf. Matt 23:25

↑

10
cf. americamagazine.org, Sept. 30, 2103

↑

11
reuters.com; Jul. 6th, 2013

↑

12
Evangelii Gaudium, n. 95

↑

13
Ibid. , n. 95

↑

14
Ibid. n. 95

↑

15
Ibid. n. 151

↑

16
National Post, January 4th, 2014

↑

17
Vatican Insider; Jan 4th, 2014

↑

18
Evangelii Gaudium, n. 52; These are themes throughout the Apostolic Exhortation

↑

19
Evangelii Gaudium, n. 261