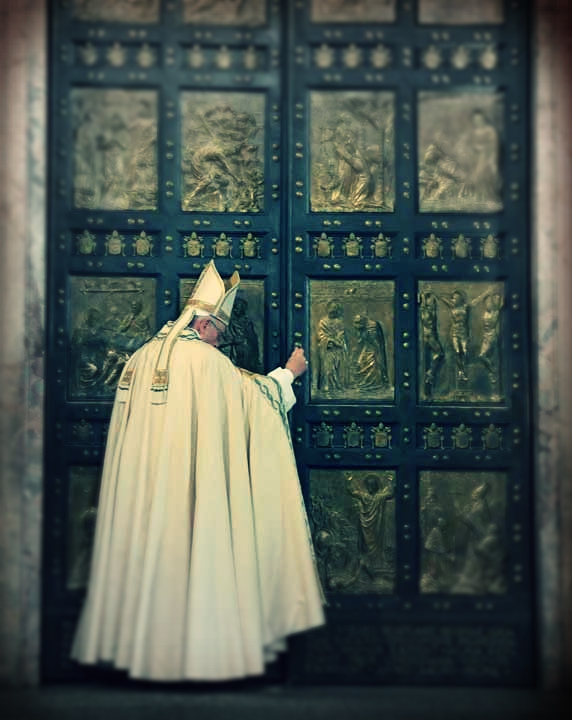 Pope Francis Closes the "Door of Mercy", Rome, Nov. 20th, 2016,
Photo by Tiziana Fabi/ AFP POOL / AFP
THE "Door of Mercy" has closed. All across the world, the special plenary indulgence offered at cathedrals, basilicas and other designated places, has expired. But what about the mercy of God in this "time of mercy" in which we are living? Is it too late? A reader put it this way:
Is it too late for me to become more prepared? I have just recently been given another chance to get back on track taking all this very seriously again. It started happening about six months ago when I was given knowledge of the actuality of the Word of God… I have been on and off the track, slightly back-slidden then forward, then a big sin, then sunk, then back. I'm not going to stop moving forward but I'm so sorry I have wasted so much time. I'm hoping that Mother Mary will fill me with her Flame of Love. I hope it's not too late. What do you think? 
A PROFOUND MESSAGE
A profound message was sent to the entire world when Pope Francis declared the past year a "Jubilee of Mercy," and through his pontificate, repeatedly welcoming all sinners to enter the Church's doors. He specifically referred to
St. Faustina in his declaration—that polish nun to whom Jesus revealed that the world is now on borrowed time.
I saw the Lord Jesus, like a king in great majesty, looking down upon our earth with great severity; but because of His Mother's intercession He prolonged the time of His mercy… [Jesus said:] Let the greatest sinners place their trust in My Mercy… Write: before I come as a just Judge, I first open wide the door of My mercy. He who refuses to pass through the door of My mercy must pass through the door of My justice… —Divine Mercy in My Soul, Diary of St. Faustina, n. 1261, 1146
The fact that this grace was made authoritatively through His Church is consistent with Scripture (and even more remarkable that the Door of Mercy was closed on the Feast of Christ the King):
I will give you the keys to the kingdom of heaven. Whatever you bind on earth shall be bound in heaven; and whatever you loose on earth shall be loosed in heaven. (Matt 16:19)
Christ, through His Church, loosed the doors, and now, He has bound them again. But does this mean that the "time of mercy" is over and that the "time of justice" has arrived?
Even if the Holy Door closes, the true door of mercy which is the heart of Christ always remains open wide for us. —POPE FRANCIS, November 20th, 2016; Zenit.org
As the Sun, and you and I rose this morning, so too did the imperishable truths of the living Word of God:
The steadfast love of the Lord never ceases; his mercies never come to an end; they are new every morning; great is your faithfulness. (Lam 3:22-23)
God's mercy never ends. Hence, even when His justice is applied, it is to draw us back to Himself (so deep is His love for each and every person He has created.)
For the Lord disciplines him whom he loves, and chastises every son whom he receives. (Hebrews 12:6)
Evidence that God's mercy remains open, even as souls pass through the "Door of Justice", is seen when God chastises those who worship the Babylonian harlot—a system of wealth, impurity, and pride:
So I will cast her on a sickbed and plunge those who commit adultery with her into intense suffering unless they repent of her works… The fourth angel poured out his bowl on the sun. It was given the power to burn people with fire. People were burned by the scorching heat and blasphemed the name of God who had power over these plagues, but they did not repent or give him glory… they did not repent of their works. (Rev 2:22; 16:8, 11)
God, who created the heavens and the earth for our life and enjoyment, reserves the right to judge those who would destroy the earth and one another. But through Jesus, the Father has made every overture to humanity to draw us back into the harmony of Eden, into The Great Dance of His Divine Will so that we would not only know His love, but enter into eternal life hereafter.
And so… it is never too late, in so far as God is concerned. Think of the thief on the Cross who, though he squandered his life in terrible sin, was admitted to Paradise by simply turning
his sorrowful gaze to the Man of Sorrow. If Jesus gave him paradise that day, how much more will He open the treasury of graces to those who implore His mercy, especially baptized souls who have fallen away? As Canadian priest Fr. Clair Watrin often says, the good thief "stole heaven!" We too can steal heaven whenever we turn to Jesus and ask forgiveness for our sins, no matter how terrible or how many they are. This is good news, especially for those who feel destroyed by shame through their addiction to pornography, one of the most terrible plagues to ever descend upon humanity (see The Hunted). Jesus doesn't want you to be bound and chained by this terrible spirit of lust; He wants to free you from this addiction. And so the first step is always to begin again:
Jesus, remember me when you come into your kingdom. (Luke 23:42)

As soon as we give God the chance, He remembers us. He is ready to completely and forever cancel our sin… —POPE FRANCIS, November 20th, 2016; Zenit.org
Dear brothers and sisters, Satan has not won when you have fallen into sin, even grave sin. Rather, he wins when he convinces you that you are beyond
the reach of God's mercy (or when you persist in serious sin without any intention of reconciling with God.) Then Satan has won you as his own possession because you have excluded yourself from the Precious Blood of Jesus, which alone can save you. No, it is precisely because of your terrible sins that Jesus comes searching for you, leaving behind the ninety righteous sheep. Indeed, He passes by those who are well in search of the sick, in order to dine with tax collectors, extend his hand to prostitutes, and converse with the ungodly. If you are a fallen, miserable sinner, then you are the one whose company Jesus desires most of all this very moment.
Let the greatest sinners place their trust in My mercy. They have the right before others to trust in the abyss of My mercy… Let no soul fear to draw near to Me, even though its sins be as scarlet. —Divine Mercy in My Soul, Diary, n. 1146, 699
Moreover, I want to assure you of God's love for even the most evil sinner on earth. Nothing can separate us from the love of God. Nothing. Now, sin can separate you from God's sanctifying grace—even eternally. But nothing can separate you from His infinite and unconditional love.
I am convinced that neither death, nor life, nor angels, nor principalities, nor present things, nor future things, nor powers, nor height, nor depth, nor any other creature will be able to separate us from the love of God in Christ Jesus our Lord. (Romans 8:38-39)
And to my reader above, I want to reassure you that you are not too late to prepare for the "times of tumult", to receive the Flame of Love, and in fact, every grace that God
reserves for His saints. The fact that you see your soul as you do is already a sign of God's grace and light penetrating your heart. No, you are from late. Remember the parable of the labourers who, though they came to work at the last hour of the day, still received the same wages.
'What if I wish to give this last one the same as you? Or am I not free to do as I wish with my own money? Are you envious because I am generous?' Thus, the last will be first, and the first will be last. (Matt 14:16)
Sometimes, dear friend, it is those who know that they have squandered their inheritance and missed so many opportunities—and yet see that God still loves and wants them—who, in the end, receive the most unexpected graces: a new ring, robe, sandals, and the fattened calf. [1]cf. Luke 15:22-23
So I tell you, her many sins have been forgiven; hence, she has shown great love. But the one to whom little is forgiven, loves little. (Luke 7:47)
But also, be careful. Do not to take these graces for granted. Do not say, "Ah, I can sin again today; He will be there tomorrow." For none of us knows at what moment he or she will stand before the King, who will judge us.
That God is infinitely merciful, no one can deny. He desires everyone to know this before He comes again as Judge. He wants souls to come to know Him first as King of Mercy. —St. Faustina, Divine Mercy in My Soul, Diary, n. 378
And thus, upon closing the Door of Mercy, Pope Francis also said:
It would mean very little, however, if we believed Jesus was King of the universe, but did not make Him Lord of our lives: all this is empty if we do not personally accept Jesus and if we do not also accept his way of being King. —POPE FRANCIS, November 20th, 2016; Zenit.org
And so, make haste—not upon the wide and easy road that leads to perdition—but upon "his way of being King"… the narrow and difficult road that leads to eternal life through dying to self and sin. But it is also the path of true joy, peace, and love, which you, dear reader, have begun to taste. It is the beginning of The Great Dance, which can last for all eternity.
The Door of Mercy in Rome has closed, but the heart of Jesus is always open. Now, run to Him who awaits you with open arms.
About 1-2% of our readers have responded
to our recent appeal for support for this
full time apostolate. Myself and my staff 
are grateful to those who have been so generous
thus far with your prayers and donations. 
Bless you!

To journey with Mark in the The Now Word,
click on the banner below to subscribe.
Your email will not be shared with anyone.