THE NOW WORD ON MASS READINGS
for January 22nd, 2016
Opt. Memorial of St. Vincent
Liturgical texts here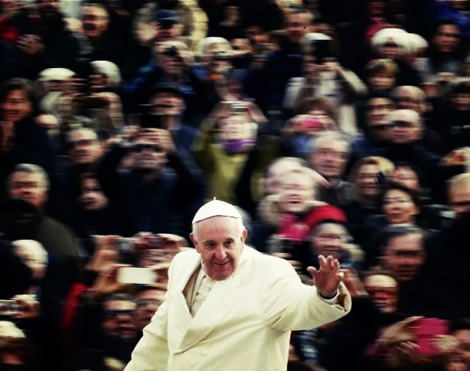 WHEN Jesus came upon Zacchaeus, a tax collecting thief, He asked to dine with him. In an instant, the narrowness of heart of the throngs was revealed. They despised Zacchaeus and scorned Jesus for making such a vague, ambiguous, scandalous gesture. Shouldn't Zacchaeus be condemned? Isn't Jesus sending the message that sin is okay? Likewise, Pope Francis' call to acknowledge, first the dignity of the person and become truly present to others, is perhaps revealing our own narrowness of heart. For we have been firmly told that it is no longer enough to sit at our computers and Facebook nice Catholic links; it is not enough to hide in our rectories between homilies; it is not enough to say "God bless you," and ignore the wounds, hunger, loneliness and pain of our brothers and sisters. This, at least, is how one Cardinal saw it.
To evangelize implies a desire in the Church to come out of herself. The Church is called to come out of herself and to go to the peripheries not only in the geographic sense but also the existential peripheries: those of the mystery of sin, of pain, of injustice, of ignorance, of doing without religion, of thought and of all misery. When the Church does not come out of herself to evangelize, she becomes self-referent and then she gets sick… The self-referent Church keeps Jesus Christ within herself and does not let him come out… Thinking of the next Pope, he must be a man that from the contemplation and adoration of Jesus Christ, helps the Church to come out to the existential peripheries, that helps her to be the fruitful mother who lives from the sweet and comforting joy of evangelizing. —Cardinal Jorge Bergoglio, shortly before being elected the 266th pope; Salt and Light Magazine, p. 8, Issue 4, Special Edition, 2013
Like Jesus, we need to begin our evangelization by letting those around us know they are welcome in our presence; that we are happy just to be with them, to listen to them, to endure their rough edges and even worldliness (which we all have too). And then, after "dining" with them, we can invite them, if they are willing, to further taste the banquet of truth: the meat of doctrine, the salads of the Sacraments, and delightful desserts of Catholic spirituality. 
At least, that his how Pope Francis reads the signs of the times, and seemingly, with an urgency. In this lies a great irony. Much of the suspicion, negative assumptions, and conspiracies against the Holy Father involve "end time" prophecies, often influenced by lingering Evangelical biases against the "harlot" Catholic Church; an overly predominant credence given to the prophecy of St. Malachy; and error-ridden prophecies, such as those of the now debunked "Maria Divine Mercy."
But as theologian Peter Bannister points out, the "Three F's" of Pope Francis point to a pontiff keenly aware of the signs of the times. After his election, Francis immediately dedicated his pontificate to Our Lady of Fatima. On two occasions, he has referenced the book The Lord of the World (1907), which I have read. It is a novel penned at the turn of the last century centred around the Anti-Christ figure Julian Felsenburgh. The descriptions in the novel of those times eerily resemble our own. Which may be why, on several occasions, Francis has railed against the West's "ideological colonization," those who are trying to corral humanity into the "sole thought."
That is, worldliness that leads you to one unique thought, and to apostasy. No differences are permitted: all are equal. —POPE FRANCIS, Homily, November 16th, 2015; ZENIT.org
And the last "F" lies in Holy Father's prescient invocation of this Jubilee Year of Mercy through the Bull of Indiction, Misericordiae Vultus, in which he invokes the intercession of St. Faustina, whom he calls "the great apostle of mercy." This is the saint to whom Christ revealed:
I first open wide the door of My mercy. He who refuses to pass through the door of My mercy must pass through the door of My justice. —Divine Mercy in My Soul, Diary of St. Faustina, n. 1146
Pope Francis cannot be ignorant of Faustina's prophecies, which clearly indicate that we are in a "time of mercy" that will come to an end followed by a time of justice. Thus, when Pope Francis threw open the doors of the Church to the world, was he signaling that he is in a hurry to gather as many souls into the "ark" of the Church as possible? As the Catechism teaches,
The Church is the place where humanity must rediscover its unity and salvation. The Church is "the world reconciled." She is that bark which "in the full sail of the Lord's cross, by the breath of the Holy Spirit, navigates safely in this world." According to another image dear to the Church Fathers, she is prefigured by Noah's ark, which alone saves from the flood. —Catechism of the Catholic Church, n. 845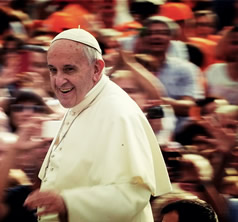 There is another "flood" here and coming, a Spiritual Tsunami. It is precisely the flood of which Francis has referred to several times: that of apostasy. Taking note of the Holy Father's reference to the apocalyptic Lord of the World, Cardinal Francis George of Chicago pondered:
What does that mean? In a sense, maybe it explains why he seems to be in a hurry. —November 17th, 2014; cruxnow.com
In fact, the Pope seemed to suggest as much himself:
I have a feeling my pontificate will be brief… It is a vague feeling I have that the Lord chose me for a short mission. —interview with Televisa in Mexico; The Guardian, March 13th, 2015
There was one other preacher who seemed to be in a hurry to reach as many sinners as possible with mercy in a short period of time. And that was Jesus Christ. He was often concerned about staying in one place too long:
The crowds went looking for him, and when they came to him, they tried to prevent him from leaving them. But he said to them, "To the other towns also I must proclaim the good news of the kingdom of God, because for this purpose I have been sent. (Luke 4:41-43)

Brothers and sisters, the Church is indeed in a "holy hurry" as the world rapidly descends into paganism again.

We cannot calmly accept the rest of humanity falling back again into paganism. —Cardinal Ratzinger (POPE BENEDICT XVI), The New Evangelization, Building the Civilization of Love; Address to Catechists and Religion Teachers, December 12, 2000

Moreover, like Our Lord, the Church is also clearly heading toward its own passion (see Pope Francis, and the Coming Passion of the Church). Perhaps it is no surprise, then, that our evangelization at this hour has taken on a new tone and urgency—one that St. John Paul II—the pope who canonized St. Faustina—immediately recognized:

My direct contact with peoples who do not know Christ has convinced me even more of the urgency of missionary activity… When we consider this immense portion of humanity which is loved by the Father and for whom he sent his Son, the urgency of the Church's mission is obvious. —POPE JOHN PAUL II, Redemptoris Missio, n. 1, 3; vatican.va

And when in a hurry, things can get a little messy. In today's Gospel, the mission of Jesus seemed not only scandalous to the Pharisees, the keepers of the Law, but to Christ's very own family.

Jesus came with his disciples into the house. Again the crowd gathered, making it impossible for them even to eat. When his relatives heard of this they set out to seize him, for they said, "He is out of his mind."(Today's Gospel)

Several in the family of the Church think Pope Francis is out of his mind as he darts about washing women's feet, being interviewed by atheists, and welcoming pagans to the Vatican. Agree or disagree with his approach, there is nothing hidden about his "agenda". He seems to be in a hurry to let everyone know that no matter how sinful they are, Christ will never turn them away. Francis is merely reflecting the Heart of Christ at this hour:

I do not want to punish aching mankind, but I desire to heal it, pressing it to My Merciful Heart. I use punishment when they themselves force Me to do so; My hand is reluctant to take hold of the sword of justice. Before the Day of Justice I am sending the Day of Mercy… Determined is the day of justice, the day of divine wrath. The angels tremble before it. Speak to souls about this great mercy while it is still the time for [granting] mercy. —Jesus to St. Faustina, Divine Mercy in My Soul, Diary, n. 1588, 635

Yes, Jesus, too, seems to be in a hurry once again. 

 

AMERICAN SUPPORTERS…

The Canadian exchange rate is at another historic low. For every dollar you donate to this ministry at this time, it adds almost another $.41 to your donation. So a $100 donation becomes almost $141 Canadian. You can help our ministry even more by donating at this time. 
Thank you, and bless you!

 

To journey with Mark in the The Now Word,
click on the banner below to subscribe.
Your email will not be shared with anyone.


NOTE: Many subscribers have recently reported that they are not receiving emails any longer. Check your junk or spam mail folder to make sure my emails aren't landing there! That is usually the case 99% of the time. Also, try resubscribing here.