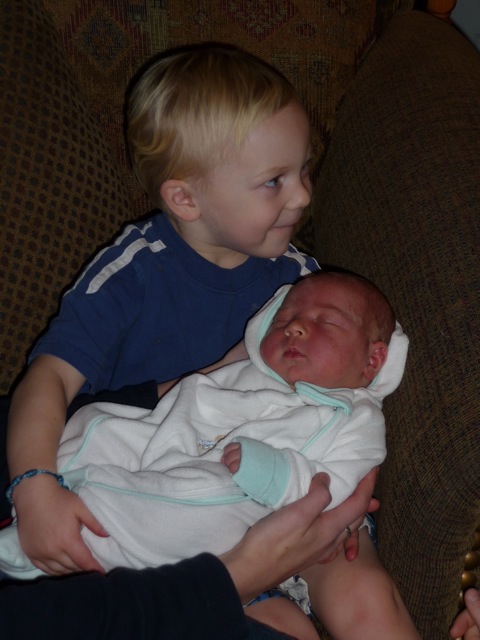 Baby Brad in his big brother's arms
SHE did it! My bride gave birth to our eighth child, and fifth son: Bradley Gabriel Mallett. The little duffer weighed in at 9 pounds and 3 ounces. He's the spitting image of his older sister Denise when she was born. Everyone's very excited, very amazed at the blessing which came home last night. Both Lea and I thank you for your letters and prayers!
I also want to take this moment to thank everyone who has responded with generosity to our request for financial help for this ministry to "give birth" to a new direction using television. I am so blessed by your kindness and your prayers. The funds you are sending are helping people in ways you can't imagine. The letters I receive are such a testament to the power of Jesus going out through this little apostolate in ways beyond my comprehension. Praise and glory be to our King!
THE LABOR PAINS

As many of my readers know, I have been writing about "the woman clothed with the sun" laboring to give birth to a son… that it's been forty years since Humanae Vitae… that we are in a period now of great labor pains. It dawned on me a few weeks ago that my life is a strange parallel to it all: I am forty years old, and my wife just labored to give birth to a son!
As I stood by my wife during the delivery, I observed something interesting. Before the real heavy labor, she was able to talk, even joke before the next contraction, seeming very relaxed in between. But when the next contraction came, it took all her energy to focus on the pain. When heavy labor came, however, it took all her strength to remain focused before the next wave came quickly…
So too in our day, we are seeing tremendous contractions in society, from the weather to the economy. And in between them, life just seems to go on—right now, at least. However, I believe the days are coming when we will be entirely focused on the next contraction, as "labor" will be moving very swiftly, and contractions will be one upon the other.
But in the end, a beautiful new era will be born. Today, I am holding a son, a beautiful sign of life, of hope, of God, in whose image he is made. As someone said to me recently, "These are the best of days, and these are the worst of days." Indeed they are. But in the end, the "Son" will rule the nations with an iron rod of justice and peace (Rev 12:5). Marantha… Come Lord Jesus.

His anger lasts a moment; his favor through life. At night there are tears, but joy comes with the dawn. For I know well the plans I have in mind for you, says the LORD, plans for your welfare, not for woe! plans to give you a future full of hope.(Psalm 30; Jeremiah 29:11)