THE NOW WORD ON MASS READINGS
for December 9th, 2013
Solemnity of the Immaculate Conception of the Blessed Virgin Mary
Liturgical texts here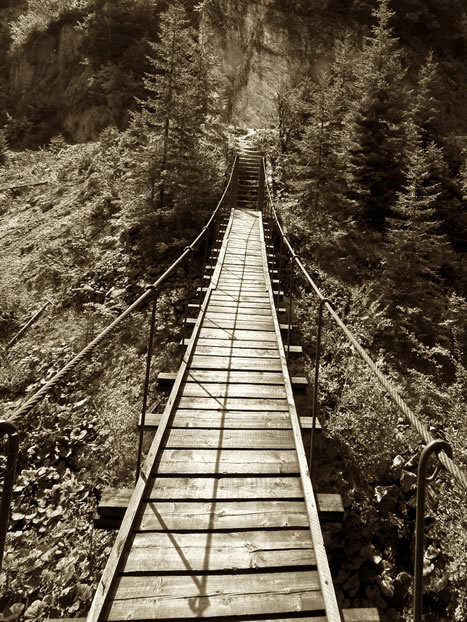 IT would be easy to hear today's Mass readings and, because it is the Solemnity of the Immaculate Conception, apply them solely to Mary. But the Church has carefully chosen these readings because they are meant to apply to you and me. This is revealed in the second reading…
The first reading and Gospel today speak of first, the disobedience of Eve, and then obedience of Mary. They are both pivotal moments in salvation history. As the early Church Fathers often said,
The knot of Eve's disobedience was untied by Mary's obedience: what the virgin Eve bound through her disbelief, Mary loosened by her faith. —Catechism of the Catholic Church, n. 494
But there is a bridge between these two readings: St. Paul's words to the Ephesians, which indeed, the Church applies to Mary in a special way:
The Father blessed Mary more than any other created person "in Christ with every spiritual blessing in the heavenly places" and chose her "in Christ before the foundation of the world, to be holy and blameless before him in love". —Catechism of the Catholic Church, n. 494
But St. Paul was speaking to all of us, not just the Blessed Mother. Yet, she becomes herself the key or bridge to revealing what St. Paul means. [1]cf. Key to the Woman She is the "exemplary realization" or typus of what you and I are to be, and to become. [2]Catechism of the Catholic Church, n. 967 What she was given in a singular way through the Immaculate Conception, we have been given through Baptism—sanctifying grace. What she was overshadowed with at the Annunciation, we have been given through Confirmation—the Holy Spirit. What she became through her "obedience of faith" all the way to the Cross—a spiritual mother—is what you and I are to become through our obedience.
Think of the planks of this bridge as the Joyful Mysteries of the Rosary. For in these mysteries lies the path which you and I are to take.
I. The Annunciation
Every day, we need to give our "yes" to God, to following His will and not our own. "Whatever you do," says St. Paul, "do everything for the glory of God." [3]1 Cor 10:31 This is what it means in today's Psalm to "sing to the Lord a new song"—to make a new offering of yourself, your work, the mundane routines of the day. When done with love, then your life becomes a new song, a new magnificat to the Lord, thus fulfilling the commandment to love Him with all your heart, soul, and strength. In this way, Jesus is conceived in everything you do and His supernatural life becomes your life.
II. The Visitation
Mary did not enclose herself, she did not hide from others the precious Gift within her womb. She actually goes "in haste" to visit Elizabeth. We too must make haste to love others around us. St. Paul says, "Let each of you look not only to his own interests, but also to the interests of others." [4]Phil 2:4 This fulfills the second part of Christ's commandment, to love your neighbor each day. One cannot give their fiat to God without their fiat to their neighbour.
Many try to escape from others and take refuge in the comfort of their privacy or in a small circle of close friends, renouncing the realism of the social aspect of the Gospel. For just as some people want a purely spiritual Christ, without flesh and without the cross, they also want their interpersonal relationships provided by sophisticated equipment, by screens and systems which can be turned on and off on command. Meanwhile, the Gospel tells us constantly to run the risk of a face-to-face encounter with others… True faith in the incarnate Son of God is inseparable from self-giving. —POPE FRANCIS, Evangelii Gaudium, n. 88
III. The Nativity
In fulfilling the demands of love of God and neighbor, we are giving birth to Jesus in our midst. And by the very nature of our "obedience of faith," we automatically attract others to us. Mary did not hang a sign on the stable advertising "The Messiah Has Arrived." Pilgrims just started showing up—both those thirsting for their God (the shepherds and Magi) and those who would persecute Him (Herod's soldiers).
There is a great mystery here. For when it is "no longer I but Christ living in me," [5]Gal 2:20 others will be drawn to the light of Christ in me in supernatural ways. As. St. Seraphim once said, "Acquire a peaceful spirit, and around you thousands will be saved." That is because love always give birth to the Prince of Peace.
IV. The Presentation
Even though she was "full of grace," Mary teaches that obedience to the precepts of the law is intrinsic to a life of grace. Sometimes Christians want to just hold Jesus in their arms, as Mary did, but without going "to the temple." But we cannot embrace only the Head and not His body, which is the Church. Our obedience to the precepts of the Church and participation in her Sacraments is intrinsic in crossing the bridge to Heaven. In this regard, we too become "signs of contradiction" to a relativistic world that is a law unto itself.  Thus, a sword of persecution may pierce our hearts also, but "Blessed are they who are persecuted for the sake of righteousness." [6]Matt 5:10
V. Jesus is Lost in the Temple
She looked and looked for three days until she found her Beloved. Again, though "full of grace," Mary longed for He who was the source and fount of grace. She reveals that we must constantly cultivate a desire for God; that self-satisfaction, spiritual pride, and sloth could lead us to lose Him. When we no longer ask, we cease to receive. When we do not seek Him, we will not find Him. When we stop knocking, the doors of grace remain closed. Mary had to constantly live her Magnificat, that is, remain "a handmaid… lowly… hungry"… dependent. For it is to the childlike that the Kingdom of Heaven belongs.
The hungry he has filled with good things; the rich he has sent away empty. (Luke 1:53)
These are the five "planks" then, connected by little beads, that daily will bridge us to "every spiritual blessing in the heavens" not only for ourselves, but for others. In this way, we become a "spiritual mother" to them as well, a conduit of grace, that they may cry out with the Psalmist:
The LORD has made his salvation known: in the sight of the nations he has revealed his justice.
RELATED READING:
*Please note. As of this week, I will only provide a daily reflection for the weekday Masses, from Monday to Saturday since Sunday is often a repetion of the daily Mass readings. Also, I wish to honor the Lord's Day and refrain from work to spend that time with my Lord and my family.
RECEIVE 50% OFF of Mark's music, book,
and family original art until December 13th!
See here for details.
To receive The Now Word,
click on the banner below to subscribe.
Your email will not be shared with anyone.


Spiritual Food for Thought is a full-time apostolate.
Thanks for your support!