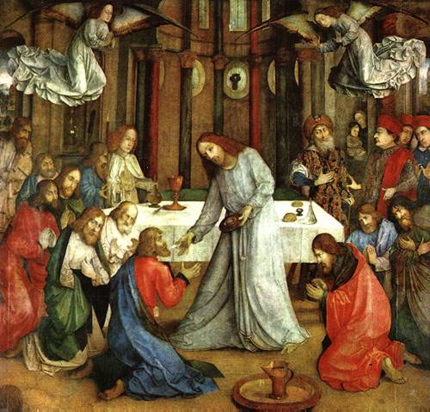 The Institution of the Eucharist, JOOS van Wassenhove,
from Galleria Nazionale delle Marche, Urbino

FEAST OF THE ASCENSION
MY LORD JESUS, on this Feast commemorating Your Ascension into Heaven… here You are, descending to me in the most Holy Eucharist.
Power
descending
to
weakness
Light
descending
to
darkness
Riches
descending
to
poverty

that my human nature, fallen and unholy, may ascend to Heaven, virtuous and holy, strong and renewed, transformed and empowered.
Why, Lord, why? Why have You descended to me this day, You a King, and I a pauper?
Because I love you, and love is irrational. I will descend to you until at last I gather all things into Myself, and My Holiness will be your holiness, My Strength will be your strength, and My Love, your love. As the Sun consumes all that is drawn into its orbit, so I will pull you to Myself, and you will become flame of the Eternal Flame. Love consuming love setting love aflame!

Do not chastise yourself, My beloved. For if I have descended to you this day, it is because I am able to raise you to the Heavens, to the very throne of our Father. In my Body and in my Blood, we are made one, and where I am, there you are.

I delight in meekness; I run to the poor in spirit. Receive Me always as a little child, and you will ascend to great heights in My Father's Kingdom. And yes, I delight in this! I delight in you! I delight in you!