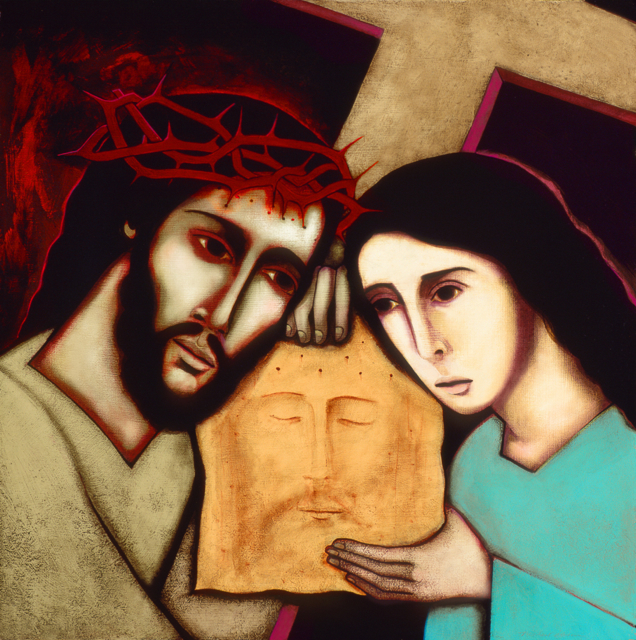 Jesus Meets Veronica, by Michael D. O'Brien
IT was a noisy hotel. I was eating some lousy take-out, watching some lousy television. So, I turned it off, set the food outside my door, and sat on my bed. I began thinking about a broken-hearted mother I prayed with after my concert the night before…
GRIEF
Her 18 year old daughter had recently passed away, and this mother stood before me in utter despair. Before she died, her daughter had underlined words in her bible from the book of Jeremiah:
For I know well the plans I have in mind for you, says the LORD, plans for your welfare, not for woe! plans to give you a future full of hope. (29:11)
"What did these words mean when my daughter's future was suddenly snatched from her?" she pleaded. "Why did she feel drawn to underline those words?" Without even thinking, the following words passed through my lips: "Because those words were underlined for you."
She fell to the floor sobbing; it was a powerful moment, a moment of hope, as I knelt and wept with her.
THE WAY OF HOPE
The memory of that experience suddenly opened up the Scriptures for me. I began to see how we can find grace and healing of the wound that the death of a loved one can cause (or another deep sorrow); it can be found along the road through Golgotha.
Jesus had to suffer. He had to pass through the Valley of the Shadow of Death. But it was not only to offer the Sacrifice of His Body and Blood for our sins, but to show us a way, the Way to healing. What this means is that, by following Jesus' example of docility and abandonment to the Father's will when it means a crucifixion of the heart in some manner, it will consequently lead to a death of our old self and to a resurrection of the True Self, the one made in His image. This is what it means when Peter writes, "By His wounds you have been healed" [1]cf. 1 Pet 2:24 The healing and graces come when we follow Him, not on the wide and easy road, but that most difficult, confusing, mysterious, lonely, and sorrowful road.
We are tempted to believe that, because Jesus was God, His agony was a bit of a breeze. But this is absolutely false. He suffered intensely every human emotion. So when we are tempted to say, "God, why are you picking on me?", He responds by showing you His wounds—His deep wounds. And thus, St. Paul's words carry, for me at least, a powerful consolation:
We do not have a high priest who is unable to sympathize with our weaknesses, but one who has similarly been tested in every way, yet without sin… Because he himself was tested through what he suffered, he is able to help those who are being tested. (Heb 4:15, 2:18)
Not only does He show us His wounds, He goes on to say, "I am with you. I will be with you until the end, My child." [2]cf. Matt 28:20 Yet, in the overwhelming emotions of sorrow, that almost seem to suffocate one's faith, there can be a dreadful feeling that God has abandoned you. Yes, Jesus knows this emotion too:
My God, my God, why have you forsaken me? (Matt 27:46)
And so one cries out like the prophet Isaiah:
The Lord has forsaken me; my Lord has forgotten me. (Isaiah 49:14)
And He replies:
Can a mother forget her infant, be without tenderness for the child of her womb? Even should she forget, I will never forget you. See, upon the palms of my hands I have engraved you; your walls are ever before me. (Isaiah 49:15-16)
Yes, He sees you surrounded by the walls of inexplicable suffering. But He will be your comfort. He means it, and this meditation is intended to show how He intends to incarnate those words so that you will know His strength and comfort in the days and years ahead. Indeed, even Christ was not left without moments of strengthening that enabled Him to keep going until He arrived at the Resurrection.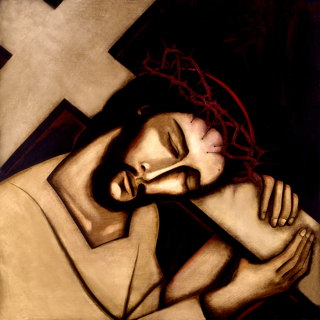 As such, Jesus, who said "I am the Way," not only died to take away our sins, but to show us the way through our own sorrowful passion.
The following are moments of grace and assistance that God provides us on The Healing Road, the path of our own passion. I have experienced each of these myself, especially in the loss of my only sister and mother, and can say that they are true and powerful graces that have healed my heart and filled it again with the light of hope. Death is a mystery; there are often no answers as to "why."  I still miss them, still cry from time to time. Yet, I believe the following signposts, while not answering "why," will answer the question "how"… how to move forward with a heart full of pain, loneliness, and fear.
THE GARDEN OF PRAYER
And to strengthen him, an angel from heaven appeared to him. (Luke 22:43)
Prayer, above anything else, provides the strength we need to face the passion of grief and mourning. Prayer connects us to Jesus the Vine, who said that, without remaining in Him, "we can do nothing" (John 15:5). But with Jesus, we can:
…break through any barrier, with my God I can scale any wall. (Psalm 18:30)
Jesus shows us through His own example in the Garden the means by which to draw grace for the seemingly impossible journey ahead over the walls of sorrow that enclose us…
Prayer attends to the grace we need… —Catechism of the Catholic Church, n.2010
As a side-note, it can be very difficult to pray in suffering. At a particular time when I was grieving and exhausted, my spiritual director told me to go and sit before the Blessed Sacrament and say nothing. Just be. I fell asleep, and when I awoke, my soul was inexplicably renewed. It is enough at times to, like the Apostle John, simply lay one's head on the breast of Christ and say, "I am too tired to speak, Lord. May I just stay here with you awhile?" And with arms around you (though you may not know it), He says,
Come to me, all you who labor and are burdened, and I will give you rest. (Matt 11:28)
Yet, God knows that we are not just spiritual, but physical beings. We need to hear, touch, and see love in action…
CROSS-BEARERS
As they were going out, they met a Cyrene named Simon; this man they pressed into service to carry his cross. (Matt 27:32)
God sends people into our lives who by their presence, kindness, humor, cooked meals, sacrifices, and time, help lift the burden of our grief, and remind us that we still have the capacity to live. We need to keep our hearts open to these cross-bearers. The temptation is often to hide from the world in the garden of grief; to surround ourselves with cold walls and keep others from getting too close to try and prevent our hearts from ever being hurt again. But this creates a new place of sorrow all on its own—walls within walls. It can become a destructive place of self-pity rather than healing. No, Jesus did not stay in the Garden, but set forth into the streets of His painful future. It was there that He happened upon Simon. We too will encounter the "Simons" that God sends, sometimes in the most unlikely disguises, at the most unexpected times.
In those moments, let your heart be loved again.
UNDESERVED
Pontius Pilate looked at Jesus and said,
What evil has this man done? I found him guilty of no capital crime… A large crowd of people followed Jesus, including many women who mourned and lamented him. (Luke 23:22; 27)
Death is not natural. It was not part of God's original plan. It was introduced into the world by the rebellion of man against the Creator (Rom 5:12). As a result, suffering is the unintended companion of the human journey. Pilate's words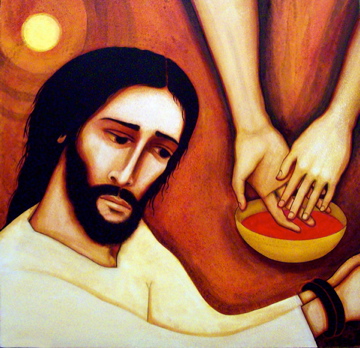 remind us that suffering comes to all, even though it feels like such an injustice to lose a loved one.
We see this in the "large crowd," that is, in the headline news, in the prayer chains that get passed along through the internet, in public memorial gatherings, and often, simply, in the faces of those we encounter. We are not alone in our suffering. There are those alongside us, such as the grieving women of Jerusalem—such as Veronica—who wiped the blood and sweat from Christ's eyes. Through her gesture, Jesus was able to see clearly again. He looked into her eyes, and saw her own sorrow… the sorrow of a daughter, separated by sin, in need of salvation. The vision she restored in Jesus gave Him strength and renewed resolve to offer His life for the suffering souls like her throughout the world, throughout time and history. Such "Veronicas" help us to take our eyes off of ourselves, and help those who are also suffering, despite our present weakness.
Blessed be the God and Father of our Lord Jesus Christ, the Father of compassion and God of all encouragement, who encourages us in our every affliction, so that we may be able to encourage those who are in any affliction with the encouragement with which we ourselves are encouraged by God. (2 Cor 1:3-4)
REMEMBER ME
Ironically, in this giving of ourselves (when we have so little to give), we find new strength and clarity, purpose and hope.
One thief crucified alongside our Lord cried out,
Jesus, remember me when you come into your kingdom. (Luke 23:42)
In that moment, Jesus must have found comfort in knowing that His sorrowful Passion had won the salvation of this poor soul. So too, we can offer up our passion for the salvation of others. As St. Paul says,
I rejoice in my sufferings for your sake, and in my flesh I am filling up what is lacking in the afflictions of Christ on behalf of his body, which is the Church. (Col 1:24)
In this way, our suffering is not a loss, but a gain when it is joined to Christ's Passion. We are His Body, and so, by willfully uniting our suffering to Jesus's, the Father receives our sacrifice in union with His Son's. Remarkably, our sorrow and suffering takes on the merit of Christ's sacrifice, and is "applied" to souls in need of His mercy. Hence, not one of our tears should ever be lost. Place them in the basket of the Immaculate Heart of Mary, and let her bring them to Jesus, who will multiply them according to the needs of others.
PULLING TOGETHER
Standing by the Cross of Jesus were His mother and His mother's sister, Mary the wife of Clopas, and Mary of Magdala… and the disciple whom He loved. (John 19:25)
Often when a death occurs, many people simply don't know how to respond or what to say to a person who is grieving. As a result, they often say nothing and even keep away "to give some space." We can feel abandoned… j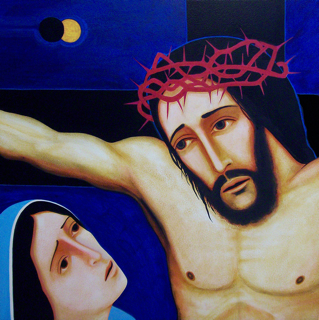 ust as Jesus was abandoned by His Apostles in the Garden. But beneath the Cross, we see that Jesus was not completely alone. His family was there with one of His most beloved friends, the Apostle John. Often, mourning is an occasion that can draw families together generating strength and solidarity in the face of death. Relationships torn apart by years of bitterness and unforgiveness sometimes have an opportunity to be healed through the loss of a loved one.
Jesus pronounced from the Cross:
Father, forgive them, they know not what they do. (Luke 23:34)
Through forgiveness and tenderness, our families can become our greatest source of strength when we face our darkest moments. Tragedy can sometimes result in reconciliation—and renewed love and hope for the future.
Through mercy, Jesus converted the centurion who crucified him…
FALSE HOPE
They gave him wine drugged with myrrh, but he did not take it. (Mark 15:23)
We must be aware that, during this period of mourning, which can sometimes last a long time in terms of intensity, there will come temptations to false consolation. The world will try to offer us the wine-soaked sponge of drugs, alcohol, nicotine, pornography, impure relationships, food, excessive television—anything to take away the pain. But just as the drug offered to Jesus would not console him, so too these things offer temporary and false relief. When the "drug" wears off, the pain is still there, and usually becomes greater because we are left with less hope when false solutions dissolve before us. Sin is never a true salve. But obedience is a healing balm.
HONESTY WITH GOD
Sometimes people are afraid to speak to God from the heart. Again, Jesus cried out to His Father:
"Eloi, Eloi, lema sabachthani?" which is translated, "My God, my God, why have you forsaken me?" (Mark 15:34)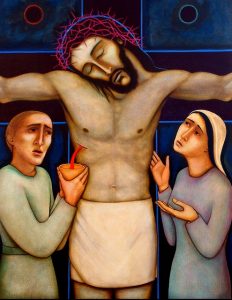 It's okay to be real with God, to tell him that you feel abandoned; to expose to Him the depths of anger and sorrow in your heart, to cry out in your helplessness… just as Jesus was helpless, His hands and feet nailed into the wood. And God, who "hears the cry of the poor" will hear you in your poverty. Jesus said,
Blessed are they who mourn, for they shall be comforted. (Matt 5:4)
How will they be comforted? If they do not cling to their bitterness and anger but empty it before God (and before a trusted friend who will listen), and abandon themselves into His arms, into His mysterious will, trusting Him like a little child. Just the way that Jesus, after crying out in naked honesty, then entrusted Himself to the Father:
Father, into your hands I commend my spirit. (Luke 23:46)
THE SILENT CARRIER
Joseph of Arimathea… came and courageously went to Pilate and asked for the body of Jesus… I will ask the Father, and he will give you another Advocate to be with you always, the Spirit of truth… (Mark 15:43; John 14:16)
Just as Jesus was sent an advocate to carry His body to its resting place, so too, God sends us a "silent helper," the Holy Spirit. If we do not resist the promptings of the Spirit leading us to pray, to go to Mass, to avoid temptation…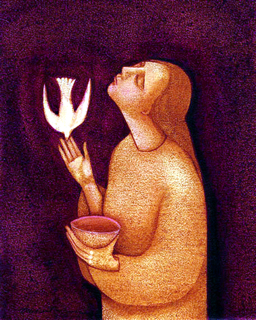 then we will be silently, often imperceptibly, carried to a resting place where our hearts and minds can find solace in silence. Or perhaps a Scripture, or in the presence of the Blessed Sacrament, which is the Heart of Jesus beating and weeping with us in our sorrow:
All you who are thirsty, come to the water! You who have no money, come, buy grain and eat; (Isaiah 55;1)

THE FRAGRANCE OF LOVE AND INTERCESSION
Mary Magdalene and Mary the mother of Joses watched where he was laid. When the sabbath was over, Mary Magdalene, Mary, the mother of James, and Salome bought spices so that they might go and anoint him. (Mark 15:47-16:1)
Just as Jesus asked the disciples to watch and pray with Him in the Garden of Gethsemane, so too, there are often many people praying for us in our grief. Be sure, just as Jesus did, to ask others to be with you—not only in word or presence—but in that silent love that was seen outside the tomb, that vigil of prayer.
My soul is sorrowful even to death. Remain here and keep watch. (Mark 14:34)
For the prayers of your friends and families will be heard from God who is always moved by our love and tears. They will be to Him as frankincense and myrrh, which will in turn be poured out upon your soul in the silent anointings of the Holy Spirit.
The fervent prayer of a righteous person is very powerful. (James 5:16)
THE RESURRECTION
The resurrection of Jesus was not instant. It wasn't even the next day. So too, the dawn of hope must sometimes await the night of mystery, the night of grief. But just as Jesus was sent moments of grace that carried Him to the Resurrection, so too we—if we keep our hearts open—will receive moments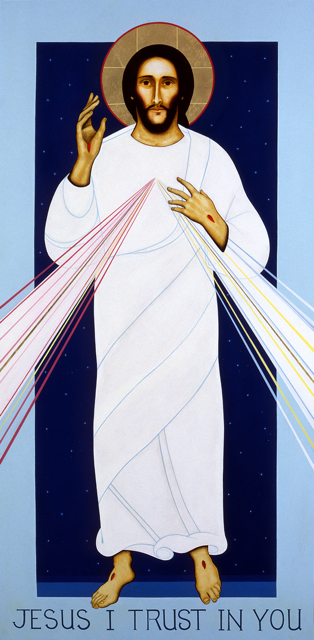 of grace that will carry us to a new day. At the time, especially in the night of sorrow, hope seems distant if not impossible as the walls of grief enclose upon you. All you can do at these times is remain still, and await the next moment of grace which leads to the next and the next… and before you know it, the weight of your sorrow will begin to be rolled away, and the light of a new dawn will begin to dispel your sorrow more and more.
 I know. I have been there in the tomb. 
These moments of grace that I've experienced were really mysterious encounters with Jesus. They are the ways in which He came to me along the road through Golgotha—He who promised He would never leave us until the end of time.
Jesus entered our world in the flesh, and lived, worked, and dwelt among us. And so He comes again through the ordinary ebb and flow of time, the mystery of His incarnation reflected in the sunset, the smile of another, or the calming word of a stranger. Knowing that no trial comes to us that God will not give us the strength to endure, [3]cf. 1 Cor 10:13 we must, like Jesus, pick up our Cross daily, begin to walk The Healing Road, and expect graces along the Way.
Lastly, remember to raise your eyes to the horizon of eternity when ultimately every tear will be dried, and every sorrow will find an answer. When we keep the reality before us that this life is fleeting and that all of us are going to die and pass from this Valley of Shadows, that too is a comfort.
You have given us the law that we may walk from strength to strength and raise our minds to You from this valley of tears. —The Liturgy of the Hours
First published, December 9th, 2009.

Paintings by Michael D. O'Brien at www.studiobrien.com
Click here to Unsubscribe or Subscribe to this Journal.


Please consider tithing to our apostolate.
Thanks so much.

——————–
Click below to translate this page into a different language: