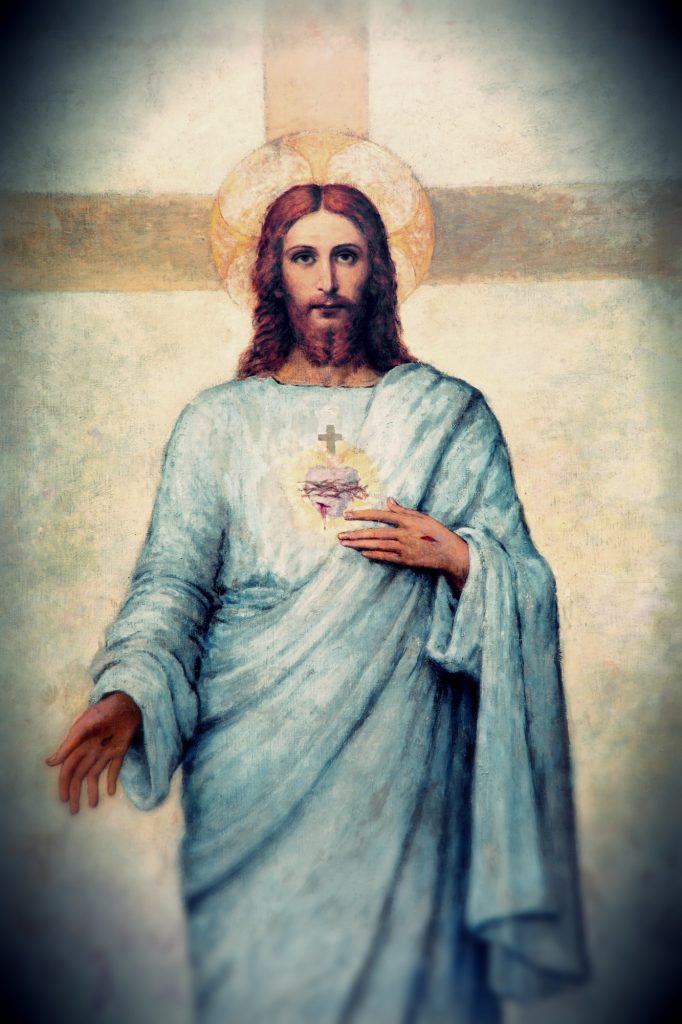 The Heart of Jesus Christ, Cathedral of Santa Maria Assunta; R. Mulata (20th century) 
WHAT you are about to read has the potential to not only set women, but in particular, men free from undue burden, and radically change the course of your life. That's the power of God's Word…
SEEK HIS KINGDOM FIRST
Ask your average man what his first priority is, and he will almost always tell you it's to "bring home the bacon," "pay the bills," and "make ends meet." But that's not what Jesus says. When it comes to providing the needs of your family, that's ultimately the role of the Heavenly Father.
If God so clothes the grass of the field, which grows today and is thrown into the oven tomorrow, will he not much more provide for you, O you of little faith? So do not worry and say, 'What are we to eat?' or 'What are we to drink?' or 'What are we to wear?' All these things the pagans seek. Your heavenly Father knows that you need them all. But seek first the kingdom of God and his righteousness, and all these things will be given you besides. (Matt 6:30-33)
Of course, Jesus isn't suggesting that you sit on your fanny all day burning incense. I'll speak about the practical in a moment.
What Jesus is referring to here is a matter of the heart. If you wake up in the morning and your thoughts are consumed with this meeting, that problem, this bill, that situation… then I dare say your heart is in the wrong place. To seek first the Kingdom of God is to seek first the matters of the Kingdom. To seek first what matters most to God. And that, my friend, is souls.
THE HEART OF GOD
To seek first the Kingdom of God and His righteousness means to strive to have the Heart of God. It is a Heart which burns for souls. As I write this, approximately 6250 souls will meet their maker this hour. Oh, what divine perspective we need! Am I worried about my petty problems when some soul is facing the prospect of eternal separation from God? Do you see what I am saying, dear friend? Jesus asks of us, His Body, to be fixed upon the matters of the Kingdom, and that is first and foremost the salvation of souls.
Zeal for the salvation of souls should burn in our hearts. —Divine Mercy in My Soul, Diary of St. Faustina, n. 350
HOW?
How do I seek to have the Heart of God, to have His love for souls beating in my breast? The answer is simple, and its mirror lies in the covenantal act of marriage. A husband and wife burn for love of one another in the consummation of their marriage—when they give completely of themselves to the other. So it is with God. When you completely give yourself to Him through a change of heart, through a conversion of the heart in which you choose Him over the idols in your life, then something powerful happens. Jesus plants the seed of His Word into your open heart, giving Himself completely to you. And His Word is living. It has the power to bring new life within you, that is, to conceive and bring to full maturity Christ Himself in your soul.
Examine yourselves to see whether you are living in faith. Test yourselves. Do you not realize that Jesus Christ is in you? (2 Cor 13:5)
There is a real and powerful transformation that takes place when we trust in God. When we trust in His forgiveness and His love, in His plan and order, set forth in His laws and commandments.
During Holy Mass, I was given the knowledge of the Heart of Jesus and of the nature of the fire of love with which He burns for us and of how He is an Ocean of Mercy. —Divine Mercy in My Soul, Diary of St. Faustina, n. 1142

The flames of mercy are burning me. I desire to pour them out upon human souls. Oh, what pain they cause Me when they do not want to accept them! —Jesus to St. Faustina, Divine Mercy in My Soul, n. 1047
When we begin to approach God in this way, as a son before His Papa, or a sister with her older Brother, then the love of God, the Heart of God begins to change us. Then, I begin to know and understand what kind of a Heart He has because I see, I know, I experience, how merciful He is to me.
Confession is the great Chamber of Mercy, that place where time and again I am healed and restored and embraced, not because of anything I've done, but simply because I am loved—and in spite of my sins which He takes away! How can this not move my heart to love Him more? And so I leave the confessional and go to Him—to the Chamber of Love, which is the Holy Altar. And having given myself to Him in Confession, He now gives Himself to me in the Holy Eucharist. This communion, this exchange of love, I carry on then throughout the day in prayer; little affectionate words spoken as I sweep the floor, or times of silence where I read His Word or listen to Him in the silence sing the love song of His quiet presence over and over again. The creature cries out, "Lord, I am so weak and sinful… and the Creator sings out, "I love you, I love  you, I love you!"
Let the sinner not be afraid to approach Me. The flames of mercy are burning Me—clamoring to be spent; I want to pour them out upon these souls… I desire that you know more profoundly the love that burns in My Heart for souls, and you will understand this when you meditate upon My Passion. —Divine Mercy in My Soul, Jesus to St. Faustina, n.50, 186
This inner knowledge, this divine wisdom, then helps me to know who I should be. It enables me to look into my enemy's eyes, yes, into the eyes of an abortionist, a murderer, even a dictator, and love him, because I know what it is to be loved, despite myself. I am learning to love with the Heart of God. I am loving with the Heart of Jesus because I have allowed Him, His love and mercy, to live in me. I am part of His Body, and thus, His body is now part of me.
He belongs to you as the head belongs to the body. All that is his is yours: breath, heart, body, soul and all his faculties. All of these you must use as if they belonged to you, so that in serving him you may give him praise, love and glory… He desires that whatever is in Him may live and rule in you: his breath in your breath, his heart in your heart, all the faculties of his soul in the faculties of your soul, so that these words may be fulfilled in you: Glorify God and bear him in your body, that the life of Jesus may be made manifest in you (2 Cor 4:11). —St. John Eudes, Liturgy of the Hours, Vol IV, p. 1331
My dear brothers and sisters who are worried and anxious about many things: you are worrying about the wrong things. If you are seeking after the things of the world, then you do not have the Heart of God; if you are worried about hanging onto the things you do have, then you do not have the Heart of God. If you are worried about the things beyond your control, you do not have the Heart of God. But if you live as a pilgrim, an alien in your streets, a stranger and a sojourner in your workplace because your heart and mind are fixed upon being salt and light to those around you, then yes, you have begun to seek first the Kingdom of God and His righteousness. You have begun to live from the Heart of God.
LET'S BE PRACTICAL!
Yes, let's be practical then. How does a parent or spouse, charged with the responsibility of his or her family, their welfare and health, seek first the Kingdom of God?
The Lord Himself tells you:
I was hungry and you gave me food, I was thirsty and you gave me drink, a stranger and you welcomed me, naked and you clothed me, ill and you cared for me, in prison and you visited me… whatever you did for one of these least brothers of mine, you did for me.  (Matt 25:34-36, 40)
Are your children not hungry? Is your wife not thirsty? Are your next door neighbours often not strangers? Is your family not naked unless you clothe them? Are your children not ill at times and in need of care? Are not your family members often imprisoned by their own fears? Then liberate them, feed them, give them drink. Greet your neighbours and reveal the Face of Christ to them. Clothe your children, buy them medicine, and be there for them to point the way to true freedom. You will do this through your labor, your job, your career, the means that God has given you. And the Father in Heaven will provide what you need. In so doing, you will clothe and feed Christ in your midst. But for your part, your goal is not their needs so much as to love them into the Kingdom of God. For if you feed and clothe and take care of your children, but you have not love, then St. Paul says your works are empty, devoid of the power to "make disciples of the nations." [1]Matthew 28:19 That is your job after all, to make disciples of your children.
If I have not love, I gain nothing. (1 Cor 13:3)
I have known men and women alike who, though they were carpenters or plumbers or housewives or what have you, they worked with the Heart of God. They prayed while they plumbed and witnessed while they worked, often silently and without words, because they worked with the Heart of God, doing small things with great love. Their minds were fixed on Christ, the leader and the perfecter of their faith. [2]cf. Hebrews 12:2 They understood that Christianity is not something you turn on Sunday for one hour, and then shut off until next Sunday. These souls were always "on," always walking about with the Heart of Christ… the lips of Christ, the ears of Christ, the hands of Christ.
My dear brothers and sisters, the lines of worry that trace your brows should become lines of Joy.  This will only become possible when you begin to seek first the Kingdom of God. When you heart begins to beat with the Divine Heart, a Heart burning with love for souls. This will be—must be—the heart of The Coming New Evangelization.
Oh, how great is the fire of purest love which burns in Your Most Sacred Heart! Happy the soul that has come to understand the love of the Heart of Jesus! —Divine Mercy in My Soul, Diary of St. Faustina, n.304

For where your treasure is, there also will your heart be… You cannot serve God and mammon.  (Matt 6:19-21, 24)
First published August 27th, 2010. 
RELATED READING
Join Mark this Lent! 
Strengthening & Healing Conference
March 24 & 25, 2017
with
Fr. Philip Scott, FJH
Annie Karto
Mark Mallett
St. Elizabeth Ann Seton Church, Springfield, MO 
2200 W. Republic Road, Spring eld, MO 65807
Space is limited for this free event… so register soon.
www.strengtheningandhealing.org
or call Shelly (417) 838.2730 or Margaret (417) 732.4621
An Encounter With Jesus
March, 27th,7:00pm
with 
Mark Mallett & Fr. Mark Bozada
St James Catholic Church, Catawissa, MO
1107 Summit Drive 63015 
636-451-4685

Bless you and thank you for
your almsgiving to this ministry.

To journey with Mark in the The Now Word,
click on the banner below to subscribe.
Your email will not be shared with anyone.