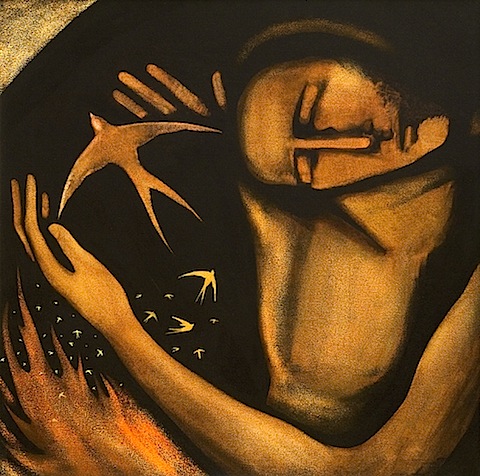 The Rescuer, by Michael D. O'Brien
THERE are many kinds of "love" in our world, but not all triumph. It is only that love which gives of itself, or rather, dies to itself that carries the seed of redemption.
Amen, amen, I say to you, unless a grain of wheat falls to the ground and dies, it remains just a grain of wheat; but if it dies, it produces much fruit. Whoever loves his life loses it, and whoever hates his life in this world will preserve it for eternal life. (John 12:24-26)
What I am saying here is not easy—dying to our own will is not easy. Letting go in a certain situation is hard. Seeing our loved ones go down destructive paths is painful. Having to let a situation turn in the opposite direction we think it should go, is a death in itself. It is only through Jesus that we are able to find the power to bear these sufferings, to find the power to give and the power to forgive.
To love with a love that triumphs.
POWER-SOURCE: THE CROSS
Whoever serves me must follow me, and where I am, there also will my servant be. (John 12:26)
And where do we find Jesus, where do we find this power? Every day, He is made present on our altars—Calvary is made present. If you would find Jesus, then be there with Him, there upon the altar. Come with your own cross, and unite it to His. In this way, you will also be with Him where He remains eternally: at the right hand of the Father, triumphant over evil and death. The power to triumph over evil in your present situation flows, not from your willpower, but from the Holy Eucharist. From Him, you will find the pattern and example, as well as the faith to conquer:
For whoever is begotten by God conquers the world. And the victory that conquers the world is our faith. (1 John 5:4)
This is surely what we read in the Proverbs of Solomon: If you sit down to eat at the table of a ruler, observe carefully what is set before you; then stretch out your hand, knowing that you must provide the same kind of meal yourself. What is this ruler's table if not the one at which we receive the Body and Blood of Him who laid down his life for us? What does it mean to sit at this table if not to approach it with humility? What does it mean to observe carefully what is set before you if not to meditate devoutly on so great a gift? What does it mean to stretch out one's hand, knowing that one must provide the same kind of meal oneself, if not what I have just said: as Christ laid down his life for us, so we in our turn ought to lay down our lives for our brothers? This is what the apostle Paul said: Christ suffered for us, leaving us an example, that we might follow in his footsteps. —St. Augustine, "Treatise on John", Liturgy of the Hours, Vol II., Wednesday of Holy, p. 449-450
"But I'm already doing this!" you might say. Then you must keep doing it. After Jesus was crowned with thorns, He didn't say, "Okay, that's enough! I've proven my love!" Or when He reached the top of Golgotha, He didn't turn to the crowds and proclaim, "See, I've proven Myself to you!" No, Jesus entered that place of utter darkness, of complete abandonment: the tomb where all seems night. If God has allowed this cross, it is because you are stronger than you think; and through this trial, He will provide what you lack, as long as you keep your heart open to Him that He may fill it with what you need. For the temptation will be to run—to run into the realm of self-pity, anger, and hard-heartedness; to excessive living, shopping, and entertainment; to alcohol, pain killers, or pornography—anything to dull the pain. Of course, it only adds to the pain in the end. Rather, in these severe trials, turn to Him who knows temptation and suffering as no other man:
No temptation has overtaken you that is not common to man. God is faithful, and he will not let you be tempted beyond your strength, but with the temptation will also provide the way of escape, that you may be able to endure it… For we do not have a high priest who is unable to sympathize with our weaknesses, but one who has similarly been tested in every way, yet without sin. So let us confidently approach the throne of grace to receive mercy and to find grace for timely help. (1 Cor 10:13; Heb 4:15-16)
A HIGHER LOVE
This is the "higher form of love" that Jesus calls each of you to: to give of yourself, not until you are fed up, but until you are raised up—up upon a cross. This does not mean that your story will end like the one I told in A Love that Triumphs. It may be that the one for whom you are suffering will not convert until the last second (see Mercy in Chaos), or perhaps they refuse reconciliation altogether. Whatever your situation, it may not end as you would like (and nor should you feel you need to remain in a situation in which you or your family are in danger, or it is debilitating beyond your ability to function, etc….) However, your suffering will not go unnoticed nor be wasted. For through this crucible, Christ will sanctify your soul. And this is an immeasurable gift that will bear enormous fruit for the rest of your life and into eternity.
How many trials I have had in the past that, at the time, I wish would have disappeared, such as the death of family members But looking back, I see that these trials have been part of the royal road toward holiness, and I would not give them up for anything, since they were permitted by God's will. The path to holiness is not lined with roses, but the blood of the martyrs.
If your trial makes you angry, then tell God you're angry. He can take it. You can certainly pray to have the trial taken away:
Father, if you are willing, take this cup away from me; still, not my will but yours be done. (Luke 22:42)
It requires faith to pray this way. Do you lack it? Then listen to the next verse:
And to strengthen him an angel from heaven appeared to him. (v. 43)
What I'm saying here will make some of you angry. "You don't understand!" No, I probably don't. There are many things I don't understand. But I do know this: every crucifixion in our lives will be followed by a resurrection if we but persevere in laying down our will and accepting His. When I was laid off, when I was rejected in my ministry, when my dear sister died in a car accident, when my beautiful mother was taken by cancer, when my hopes and dreams came crashing to the floor… there was only one place to go: into the darkness of the tomb to wait for the Light of Dawn. And every time in those nights of faith—every time—Jesus was there. He was always there in the tomb with me, waiting, watching, praying with, and sustaining me until the sorrows turned to peace, and darkness to light. Only God could do that. Only a supernatural grace from the Living Lord could conquer the utter blackness which surrounded me. He was my Rescuer… He is my Rescuer.
And He is there to rescue any soul who comes to Him with childlike faith.
Yes, this is the hour of temptation for many of you, to either trust in Jesus, or to run. To follow Him now in His Passion—your passion—or to join the throngs who mock Him and reject the scandal of the Cross. This is your Good Friday, your Holy Saturday… but if you persevere… Easter morn will truly come.
To attain holiness, then, we must not only pattern our lives on Christ's by being gentle, humble and patient, we must also imitate Him in His death. —St. Basil, "On the Holy Spirit", Liturgy of the Hours, Vol II, p. 441
First published April 9th, 2009.
Click here to Unsubscribe or Subscribe to this Journal.
Thank you for remembering our ministry this Lent

Click below to translate this page into a different language: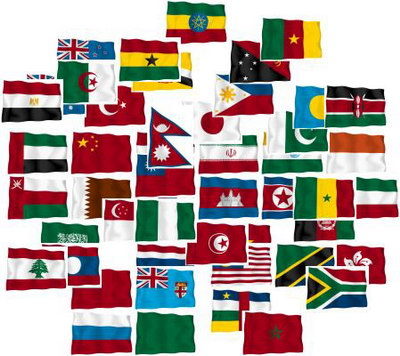 Prepare for Divine Mercy Sunday with
Mark's Chaplet of Divine Mercy!