THE NOW WORD ON MASS READINGS
for May 2nd, 2014
Memorial of St. Athanasius, Bishop & Doctor of the Church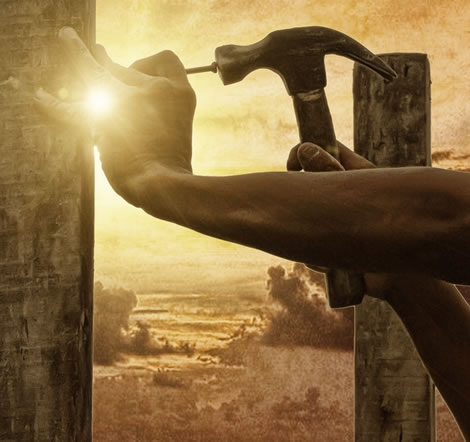 LIKE the believers in the early Church, I know many today likewise feel a strong call toward Christian community. In fact, I have dialogued for years with brothers and sisters about this desire that is intrinsic to Christian life and the life of the Church. As Benedict XVI said:
I cannot possess Christ just for myself; I can belong to him only in union with all those who have become, or who will become, his own. Communion draws me out of myself towards him, and thus also towards unity with all Christians. We become "one body", completely joined in a single existence. —Deus Caritas Est, n. 14
This is a beautiful thought, and not a pipe dream either. It is the prophetic prayer of Jesus that we "may all be one." [1]cf. Jn 17:21 On the other hand, the difficulties facing us today in forming Christian communities are not small. While Focolare or Madonna House or other apostolates provide us with some valuable wisdom and experience in living "in communion," there are a few things we should keep in mind.
Today's first reading is a strong warning about building community without the grace of God:
…if this endeavor or this activity is of human origin, it will destroy itself.
So many communities, whether lay or consecrated, have fallen over the years because they either began in the flesh or ended up in the flesh.
The concern of the flesh is death, but the concern of the spirit is life and peace… those who are in the flesh cannot please God. (cf. Rom 8:6-8)
Wherever selfish ambition, the desire for power, dominance, exclusivity and jealousy exists, watch out! These are not the foundation stones for "the house of Lord," but the house of division.
How many wars take place within the people of God and in our different communities… Our world is being torn apart by wars and violence, and wounded by a widespread individualism which divides human beings, setting them against one another as they pursue their own well-being… It always pains me greatly to discover how some Christian communities, and even consecrated persons, can tolerate different forms of enmity, division, calumny, defamation, vendetta, jealousy and the desire to impose certain ideas at all costs, even to persecutions which appear as veritable witch hunts. Whom are we going to evangelize if this is the way we act? —POPE FRANCISF, Evangelii Gaudium, n. 98-100
On the other hand, wherever there is peace, joy, freedom, mutual respect, and a desire to share the message and life of Jesus, these are signs of the Holy Spirit at work. Don't forget, the early Church community was born at Pentecost, born by the Spirit. The early Church was the work of God, of Christ, who said, "I will build my Church." [2]cf. Matt 16:18 Jesus Christ is the same yesterday, today, and forever. [3]cf. Heb 13:8
While we should strive today to love, serve, and become available to one another in our family, parish, or neighborhood communities, we should very carefully and patiently wait upon the Lord to show us how to build a more formal Christian community. For:
Unless the Lord build the house, they labor in vain who build. (Psalm 127:1)
The financial, physical, and even ecclesiastical obstacles to forming community today are not little. But that does not mean that the Lord does not desire community. He is doing something new today; it is hidden, quiet, waiting to be birthed at the right time. I have often heard the Lord speak in my heart of a "new wineskin." That is, that we are not to try and pour the old models of community into our times; that, in fact, "the age of ministries is ending", that is, not ministry itself, but ministry as we've known it. The world is going to change dramatically, and thus, we should gather with Mary once again in the upper room of our hearts, with those whom you are feeling drawn to form community, and "wait for "the promise of the Father."" [4]cf. Acts 1:4
Wait for the LORD with courage; be stouthearted, and wait for the LORD. (Today's Psalm)
And do not be discouraged if the Lord does not adhere to your timeline! What He asks from you today is the little offering of your fiat, the "five loaves" of prayer, obedience, service, humility, and trust. And He will multiply them according to His plan, His will, in the way that will best feed you, the community, and the world whom you are called to serve.
In closing, I would like to share with you an interior "word" I received while praying before the Blessed Sacrament with a small band of Catholic evangelists and a priest, eight years ago. You can read it here: The Coming Solitudes and Refuges.
Your support is needed for this full-time ministry.
Bless you, and thank you.


To receive The Now Word,
click on the banner below to subscribe.
Your email will not be shared with anyone.