PART V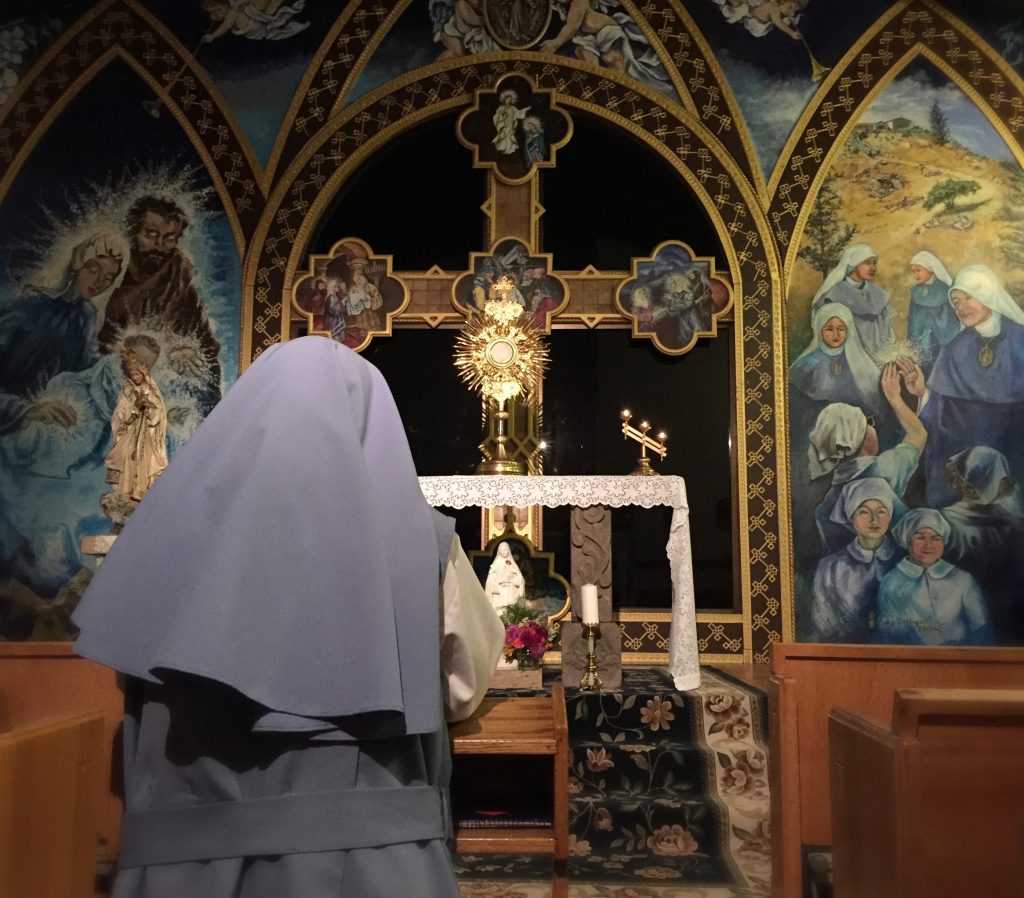 Sr. Agnes praying before Jesus on Mount Tabor, Mexico.
She would receive her white veil two weeks later.
IT was a Saturday afternoon Mass, and "interior lights" and graces continued to fall like a gentle rain. That's when I caught her out of the corner of my eye: Mother Lillie. She had driven in from San Diego to meet these Canadians who had come to build The Table of Mercy—the soup kitchen.
After Mass, I climbed the steps of the chapel to the rear gardens, and Mother Lillie motioned toward me. I knew her presence here was a rare gift, for she is a victim soul unable to be in the public very much, let alone travel. In fact, her many ailments and sicknesses brought about her death at one point and an encounter with Jesus. He told her that she could choose whether to stay, or return to earth, but that if she returned, she would suffer much. And here she was…
I held this holy woman in my arms as we both wept in the tangible presence of Our Lady and the Holy Spirit. It's a strange thing. She thanked us over and over again for what we were doing, and yet, all of us were thanking her for the incredible love, generosity, and graces that we were all encountering on Mount Tabor. "Heaven is touching earth here," I said to Mother. "But there is something else."
"When I arrived here several days ago, the Lord immediately reminded me of something I sensed Him speak in my heart several years ago. That His mercy is like an elastic band, and that mankind's sins continue to stretch it to the point of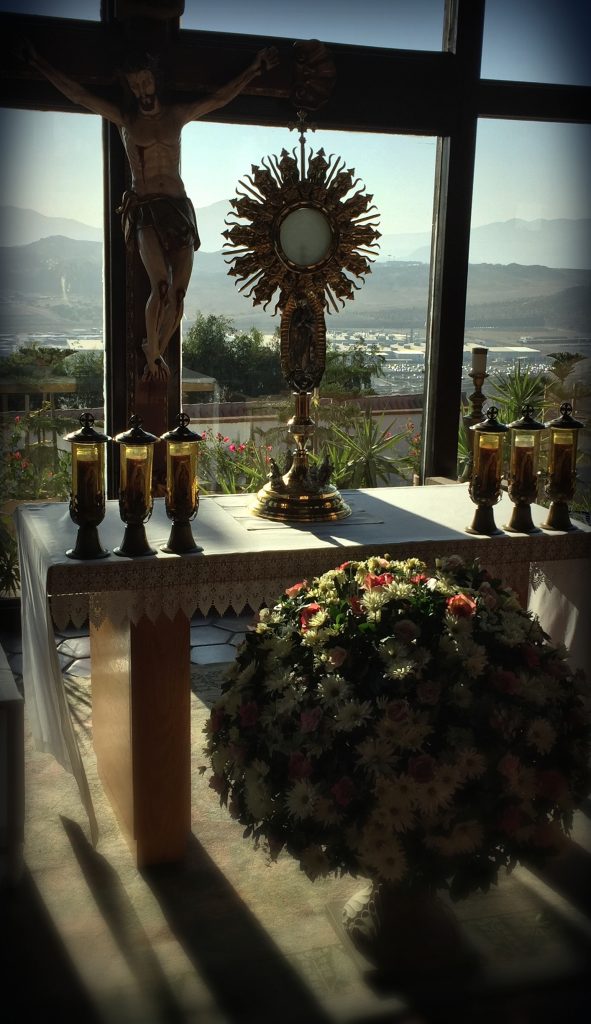 breaking. But somewhere in the world, a little nun in a convent gets down on her face before the Blessed Sacraments and says, "Jesus, have mercy on us and on the whole world!" And the Lord replies, "Okay, ten more years."
I looked into her eyes and said, "Mother Lillie, this is the place that Jesus was speaking of!" At that, Mother Lillie nodded to me as if she knew exactly what I was saying. I never had a chance to speak to her further about it, but when I arrived back home in Canada a week later, I found the Trinitarians Sisters' website and a promotional video. It spoke of how the order is a response to the message of Fatima, to make reparation for the sins of men because "many souls go to Hell because they have no one to pray for them." [1]Our Lady of Fatima to Sr. Lucia The video starts with the initial calling to Mother Lillie, posed as a question:
Where will Our Lady find generous souls to pray for the conversion of the world? Is there no one willing to bow their head before God? Who has the courage to say with their life: "Convert and return to God!"? —trinitariansofmary.org
But what I read next left my jaw open, as it confirmed what I had said to Mother Lillie that day in the garden:
On March 19th, 1992 in Fatima, Portugal, a young Carmelite lay missionary receives a Call to found a new religious community in the Church dedicated to adoring Jesus in the Eucharist and begging Him to have mercy on the world.
So many times, St. Faustina had visions where she saw the rays of Divine Mercy flow out from the Eucharist and over the world. She wrote on one occasion:
When the priest exposed the Blessed Sacrament, and the choir began to sing, the rays from the image pierced the Sacred Host and spread out all over the world. Then I heard these words: These rays of mercy will pass through you, just as they have passed through this Host, and they will go out through all the world.—Divine Mercy in My Soul, Diary, n. 441
Here in Mexico, these nuns were living this in 24 hours of prayer and adoration before the Blessed Sacrament. Sometimes, after Mass, the nuns would continue to sing and lead us in spontaneous prayers for healing and trust in God's love and mercy. Tears would flow from many who stayed behind to bathe in Our Lord's rays.
After the Benediction. [the rays shone out] to both sides and returned again to the monstrance. Their appearance was bright and transparent like crystal. I asked Jesus that He deign to light the fire of His love in all souls that were-cold. Beneath these rays a heart will grow warm even if it were like a block of ice; even if it were hard as a rock, it will crumble into dust. —Divine Mercy in My Soul, Diary, n. 370
Listen to a short recording of the nuns during Adoration…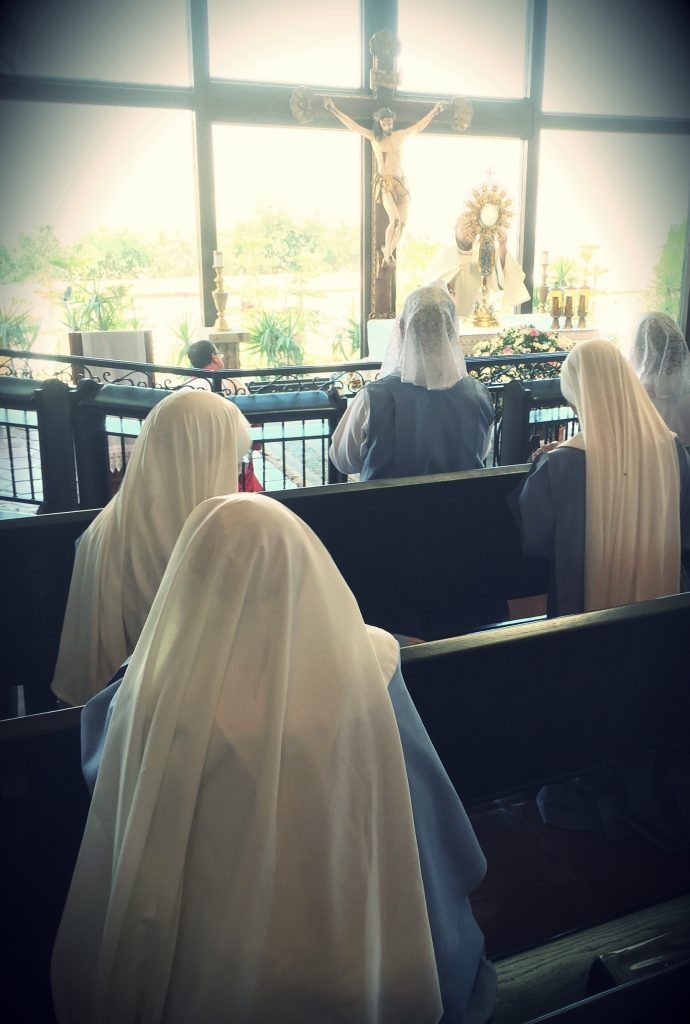 I also knew that these graces, these rays of Mercy that Jesus was extending over the world through the intercession of these nuns, was to gather as many souls into the "Ark", the Immaculate Heart of Mary, as possible. For Jesus was quite explicit to St. Faustina that mankind was approaching the end of an era—and that the clock is ticking:
I am prolonging the time of mercy for the sake of [sinners]. But woe to them if they do not recognize this time of My visitation. —Divine Mercy in My Soul, Diary, n. 1160
Indeed, several of the Mass readings that week were on staying awake, on keeping the lamp of one's heart trimmed for the unexpected "day of the Lord."[2]cf. Faustina, and the Day of the Lord  The expectation that we are coming into something big in the world continued to grow in my heart. But the expectation had much less to do with impending and seemingly necessary calamities to shake mankind, but more so the anticipation of what comes in the midst of, and after: the birth of a new era and triumph of the Immaculate Heart. It was on this that I sensed Our Lady wished to speak most about to my soul in the final days on Mount Tabor, as the words of St. Paul in the first reading and the Gospel that day echoed in my heart:
God chose the foolish of the world to shame the wise, and God chose the weak of the world to shame the strong, and God chose the lowly and despised of the world, those who count for nothing, to reduce to nothing those who are something, so that no human being might boast before God… Since you were faithful in small matters, I will give you great responsibilities. Come, share your master's joy… 
To be continued…
Thanks for your tithes and prayers.


To journey with Mark in the The Now Word,
click on the banner below to subscribe.
Your email will not be shared with anyone.


Podcast: Play in new window | Download