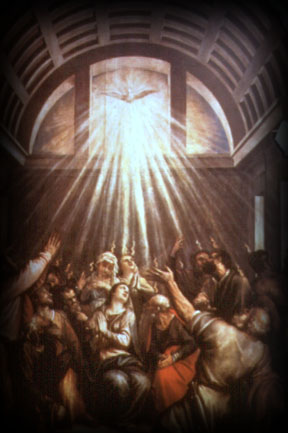 Artist Unknown
I have updated this writing which I first published October 19th, 2007:
I HAVE written often that we need to stay awake, to watch and pray, unlike the slumbering apostles in the Garden of Gethsemane. How critical this vigilance has become! Perhaps many of you feel a great fear that you are either asleep, or perhaps that you will fall asleep, or that you will even run from the Garden! 
But there is one crucial difference between the apostles of today, and the Apostles of the Garden: Pentecost. Before Pentecost, the Apostles were fearful men, full of doubt, denial, and timidity. But after Pentecost, they were transformed. Suddenly, these once ineffectual men burst into the streets of Jerusalem before their persecutors, preaching the Gospel without compromise! The difference?
Pentecost.