THE NOW WORD ON MASS READINGS
for November 30th, 2013
Feast of St. Andrew
Liturgical texts here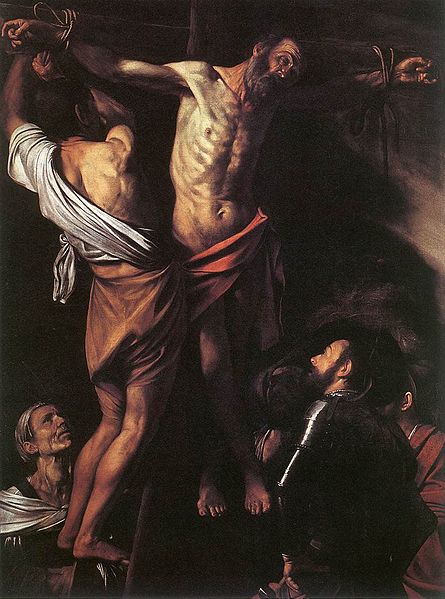 Crucifixion of St. Andrew (1607), Caravaggio
GROWING up at a time when Pentecostalism was strong in Christian communities and on television, it was common to hear evangelical Christians quote from today's first reading from Romans:
If you confess with your mouth that Jesus is Lord and believe in your heart that God raised him from the dead, you will be saved. (Rom 10:9)
Then would follow the "altar call" when people were invited to ask Jesus to become their "personal Lord and savior." As a first step, this was right and necessary to intellectually begin a life of faith and relationship with God. [1]read: Personal Relationship with Jesus Unfortunately, some pastors erroneously taught that this was the only step required. "Once saved, always saved." But even St. Paul did not take his salvation for granted, saying we must work it out with "fear and trembling." [2]Phil 2:12
For if, after they have escaped the defilements of the world through the knowledge of our Lord and Savior Jesus Christ, they are again entangled in them and overpowered, the last state has become worse for them than the first. For it would have been better for them never to have known the way of righteousness than after knowing it to turn back from the holy commandment delivered to them. (2 Pet 2:20-21)
And yet, today's reading does say, "For everyone who calls on the name of the Lord will be saved." What, then, does this mean? For even the devil acknowledges that "Jesus is Lord" and that "God raised him from the dead," and yet, Satan is not saved.
Jesus taught that the Father is seeking those who will worship Him in "Spirit and truth." [3]cf. John 4:23-24 That is, when one confesses that "Jesus is Lord," that means that one is bowing down to everything this implies: to following Jesus, obeying His commands, to becoming a light for others—to living, in a word, in the truth by the power of the Spirit. In the Gospel today, Jesus says to Peter and Andrew, "Come after me, and I will make you fishers of men." To acknowledge that "Jesus is Lord" means to "come after" Him. And St. John writes,
This is the way we may know that we are in union with him: whoever claims to abide in him ought to live just as he lived… In this way, the children of God and the children of the devil are made plain; no one who fails to act in righteousness belongs to God, nor anyone who does not love his brother. (1 John 3:5-6, 3:10)
There is a danger here, however—one that many Catholics have fallen into—and that is to take these Scriptures out of the context of God's infinite mercy. One can begin to live his faith out of fear, afraid that even the slightest sin is cutting him off from God. To work out one's salvation with fear and trembling means to do what Jesus said: become like a little child; to trust completely in His love and mercy, rather than one's own devices. When I look in the mirror, I understand what St. Paul meant by "fear and trembling", because I see how readily I can betray my Lord. I do indeed need to careful, to recognize that I am in a spiritual battle, that the world, the flesh, and the devil often conspire against me in very subtle ways. "The spirit is willing but the flesh is weak!"
There are two things that I must constantly put before me. The first, is to remind myself that I am called to something beautiful. That the Gospel invites me, not to a life of morbid penance and unhappiness, but to ultimate fulfillment and joy. As the Psalm says today, "The law of the Lord is perfect, refreshing the soul… giving wisdom to the simple… rejoicing the heart…. enlightening the eye." The second thing is to admit that I am not perfect. And thus, I am constantly in need of beginning again. Simply, I have great hope, but great need of humility.
It is for this hour, these times of our ours when temptation is everywhere, that Jesus timed the message of Divine Mercy, which can be summarized in five words: "Jesus, I trust in you." When we call out these words in "Spirit and truth," and try to live in that trust by following His precepts moment by moment, we can rest like a little child in His arms. For indeed, "everyone who calls on the name of the Lord will be saved." And when I fail… to be like a child is simply, very simply, to begin again.
So take a moment today to begin again. Reflect on and pray with these beautiful words from the beginning of Pope Francis' Apostolic Exhortation, which are the pure essence of the Gospel:
I invite all Christians, everywhere, at this very moment, to a renewed personal encounter with Jesus Christ, or at least an openness to letting him encounter them; I ask all of you to do this unfailingly each day. No one should think that this invitation is not meant for him or her, since "no one is excluded from the joy brought by the Lord". The Lord does not disappoint those who take this risk; whenever we take a step towards Jesus, we come to realize that he is already there, waiting for us with open arms. Now is the time to say to Jesus: "Lord, I have let myself be deceived; in a thousand ways I have shunned your love, yet here I am once more, to renew my covenant with you. I need you. Save me once again, Lord, take me once more into your redeeming embrace". How good it feels to come back to him whenever we are lost! Let me say this once more: God never tires of forgiving us; we are the ones who tire of seeking his mercy. Christ, who told us to forgive one another "seventy times seven" (Mt 18:22) has given us his example: he has forgiven us seventy times seven. Time and time again he bears us on his shoulders. No one can strip us of the dignity bestowed upon us by this boundless and unfailing love. With a tenderness which never disappoints, but is always capable of restoring our joy, he makes it possible for us to lift up our heads and to start anew. Let us not flee from the resurrection of Jesus, let us never give up, come what will. May nothing inspire more than his life, which impels us onwards! —POPE FRANCIS, Evangelii Gaudium, Apostolic Exhortation, n. 3
RELATED READING:
To receive The Now Word,
click on the banner below to subscribe.
Your email will not be shared with anyone.


Spiritual Food for Thought is a full-time apostolate.
Thanks for your support!

Join Mark on Facebook and Twitter!