THE NOW WORD ON MASS READINGS
for December 1st, 2013
First Sunday of Advent
Liturgical texts here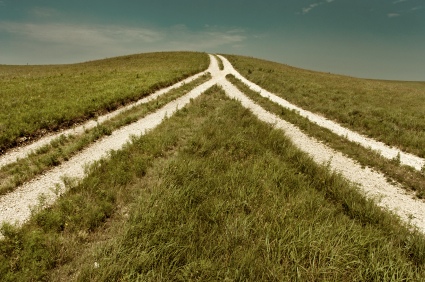 THE book of Isaiah—and this Advent—begins with a beautiful vision of a coming Day when "all nations" will stream to the Church to be fed from her hand the life-giving teachings of Jesus. According to the early Church Fathers, Our Lady of Fatima, and the prophetic words of 20th century popes, we may indeed expect a coming "era of peace" when they "shall beat their swords into plowshares and their spears into pruning hooks" (see Dear Holy Father… He is Coming!)
…turning our eyes to the future, we confidently await the dawn of a new Day… "Watchmen, what of the night?" (Is. 21:11), and we hear the answer: "Hark, your watchmen lift up their voice, together they sing for joy: for eye to eye they see the return of the Lord to Zion"…. Their generous witness in every corner of the earth proclaims "As the third millennium of the Redemption draws near, God is preparing a great springtime for Christianity and we can already see its first signs." May Mary, the Morning Star, help us to say with ever new ardor our "yes" to the Father's plan for salvation that all nations and tongues may see his glory. —POPE JOHN PAUL II, Message for World Mission Sunday, n.9, October 24th, 1999; www.vatican.va
Blessed John Paul II tied the coming "Day", this "new springtime", with the anticipation of "the return of the Lord." However, as early Church Father Lactantius explains, [1]cf. Faustina and the Day of the Lord the "day of the Lord" is not to be understood as a 24 hour day, but a period of time, what the Fathers pointed out in Revelation 20 to be a symbolic "thousand year" reign of Christ through His saints.
The hope of a new springtime is balanced by the Gospel's warning: the day of the Lord is preceded by a winter of compromise.
As it was in the days of Noah, so it will be at the coming of the Son of Man. In those days before the flood, they were eating and drinking, marrying and giving in marriage, up to the day that Noah entered the ark. (Matt 24:37-38)
This compromise with the spirit of the world, the spirit of antichrist, is what St. Paul refers to as the "apostasy", a great rebellion when many will fall away from the faith. Hence, in today's second reading, St. Paul pours a little cold water on our heads, reminding us that "the day is at hand" and to conduct ourselves, not in revelry, lust, or divisions, but to "live as children of the light." [2]cf. Eph 5:8 The message is clear: if you don't want to be caught off guard like a thief in the night, as they were in the days of Noah, then…
…put on the Lord Jesus Christ, and make no provision for the desires of the flesh. (Rom 13:14)
In other words, don't compromise. We all have to ask ourselves this Advent, how am I negotiating with what Pope Francis calls "the spirit of worldliness"?
…worldliness is the root of evil and it can lead us to abandon our traditions and negotiate our loyalty to God who is always faithful. This… is called apostasy, which… is a form of "adultery" which takes place when we negotiate the essence of our being: loyalty to the Lord. —POPE FRANCIS from a homily, Vatican Radio, November 18th, 2013
It is so easy to compromise today, isn't it? For some, it may be clicking on those lustful links in your web browser; for others, it is putting off prayer and duties to watch television… and then watching or reading books that one really shouldn't; or it is letting one's hair down at work with off-colored humor or foul language just to "fit in" with the crowd… We not only take these routes because our flesh is saying "yes, yes!", but often because it is the easy thing to do. Those who live the status quo aren't ruffling anyone's feathers. But let me say this: those in Noah's day who were living the "status quo" found themselves dog-paddling in flood waters.
The great danger in today's world, pervaded as it is by consumerism, is the desolation and anguish born of a complacent yet covetous heart, the feverish pursuit of frivolous pleasures, and a blunted conscience. Whenever our interior life becomes caught up in its own interests and concerns, there is no longer room for others, no place for the poor. God's voice is no longer heard, the quiet joy of his love is no longer felt, and the desire to do good fades. —POPE FRANCIS, Evangelii Gaudium, Apostlic Exhortation, n. 2
But it's never too late to get into the ark of God's mercy! As long as you have breath in your lungs, simply pray:
"Lord, I have let myself be deceived; in a thousand ways I have shunned your love, yet here I am once more, to renew my covenant with you. I need you. Save me once again, Lord, take me once more into your redeeming embrace." —Ibid. n. 3
Today, let us lift up prayers for those who cannot recognize the Great Storm that has now overshadowed our world, its clouds carrying tempests of sorrow and judgment. [3]cf. The Seven Seals of Revolution But they also carry the rains of God's love and mercy, and thus with the Psalmist we can pray, "Peace be within you! Because of the house of the Lord, our God, I will pray for your good."
He waits for us, He loves us, He forgives us. Let us pray that His faithfulness may save us from the worldly spirit that negotiates all. Let us pray that he may protect us and allow us to go forward, leading us by the hand, just like a father with his child. Holding the Lord's hand we will be safe. —POPE FRANCIS from a homily, Vatican Radio, November 18th, 2013
RELATED READING:
To receive The Now Word,
click on the banner below to subscribe.
Your email will not be shared with anyone.


Spiritual Food for Thought is a full-time apostolate.
Thanks for your support!