THE NOW WORD ON MASS READINGS
for December 14th, 2013
Memorial of St. John of the Cross
Liturgical texts here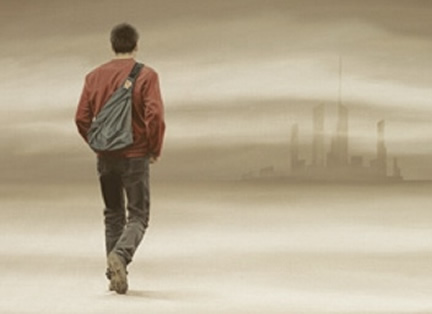 THE most difficult and painful thing any parent can face, aside from losing their child, is their child losing their faith. I have prayed with thousands of people over the years, and the most common request, the most frequent source of tears and anguish, are for the children who have wandered away. I look into these parents' eyes, and I can see that many of them are holy. And they feel absolutely helpless.
It must have been how the father felt in Jesus' parable of the prodigal son. The father in this story was a good man, a holy man. We know this, not only by how he received his wayward son back again, but by the fact that the son eventually questioned why he left home, blaming himself, not his father. Sometimes as parents we can do a lot of things right. But one thing we cannot do is write over our child's free will.
We are living in a time when the family, perhaps like no other generation, is being attacked from every possible angle. Especially dads.
The crisis of fatherhood we are living today is an element, perhaps the most important, threatening man in his humanity. The dissolution of fatherhood and motherhood is linked to the dissolution of our being sons and daughters.  —Cardinal Joseph Ratzinger (POPE BENEDICT XVI), Palermo, March 15th, 2000 
Perhaps it is another "sign of the times" indicating how close we really are to the "day of the Lord." [1]cf. Faustina, and the Day of the Lord For as we hear in today's first reading, the Lord will send Elijah to "turn back the hearts of fathers toward their sons" implying that, as Christ prophesied, they would be divided. [2]cf. Luke 12:53 It is an echo of what the prophet Malachi wrote:
Now I am sending to you Elijah the prophet, before the day of the Lord comes, the great and terrible day; He will turn the heart of fathers to their sons, and the heart of sons to their fathers, lest I come and strike the land with utter destruction. (Mal 3:23-24)
As a parent, I can identify with the feeling of helplessness of raising sons and daughters in a pornographic world where every other kid has a cellphone, X-box, and computer. The lure of the "glamour of sin" in our times is unlike any generation before us by simple virtue of the internet beaming byte after byte of sensuality, materialism, and practical atheism into gadgets that, day by day, we are finding harder to manage without. While there are definitely some beautiful young souls coming up the ranks, especially in the priesthood, they are far-outnumbered by a world that is embracing "tolerance" as its new creed (ie. "I'll tolerate what's moral for you while you tolerate what's moral for me. We won't judge. Let's hug…").
How do we parent our children in this age, especially when they are rebellious or even want to abandon their faith?
I remember in confession a priest saying to me, "If God gave you this child, then he will also give you the grace to raise him." That was really a word of hope. St. Paul wrote,
God is faithful, and he will not let you be tempted beyond your strength… God is able to make every grace abundant for you, so that in all things, always having all you need, you may have an abundance for every good work. (1 Cor 10:13; 2 Cor 9:8)
But the same priest also said, "Trials are for triumph, crosses are for resurrection." So God gives us the grace we need to raise our kids, and that includes the grace we need to let them go—into His hands.
The prodigal father let his son go too. He didn't force him to stay. Nor did he slam and bolt the door. He kept the front gate of unconditonal love open. But "love does not insist on its own way," said St. Paul. [3]1 Cor 13:5 Love bows before another's freedom. So the father kept watching, waiting, and praying for his child's return. That's all we can do as parents when we've done everything we can. And if we've failed to do all we can, we can ask forgiveness. I have had to apologize to my own children many times when, as a father, I was not the example I wanted to be. I say sorry, and then try to love them even more, remembering what St. Peter said,
…let your love for one another be intense, because love covers a multitude of sins. (1 Pet 4:8)
Parents often think of St. Monica because of how she persevered in prayer, resulting later in her son's conversion from hedonism (St. Augustine is now a Doctor of the Church). But do we think about those times she endured where she must have felt her child was damned and lost and that she had perhaps failed? Those times where her best overtures, her most clever apologetics, her most convincing appeals went unheeded? And yet, what seeds was she planting, what growth, though hidden beneath the dark soil of sin and rebellion, was she watering? And so, she teaches us to pray like the Psalmist today:
Once again, O LORD of hosts, look down from heaven, and see; take care of this vine, and protect what your right hand has planted…
Furthermore—and we must trust the Lord in this—we do not fully grasp the paths in which God leads souls. But we see that Peter's denial became a testimony of the Lord's forgiveness; Paul's persecution became a testimony of the Lord's mercy; Augustine's worldliness became a testimony of the Lord's patience; and St. John of the Cross's "dark night" became a testimony of the Lord's super-abundant nuptial love. So let the Lord write your child's testimony, in His own time, in His own handwriting. [4]cf. Your Testimony
Let the Lord write our history. —POPE FRANCIS, Homily, Dec 17th, 2013; Associated Press

And so parents, be like Noah. God looked over the whole earth and found favor with only Noah because he was a "righteous man and blameless." [5]Gen 6:8-9 But God saved Noah's family too. If you as a parent humble yourself, confess to God all your faults, and trust in His mercy, then you too are made righteous by the blood of Christ. And if you persevere in faith, I believe the Lord will, in His own mysterious timing, lower the ramp of the ark to your prodigal children as well.
Love them. Pray for them. And leave everything you've done in God's hands, both the good and the bad.
…for the son treats the father with contempt, the daughter rises up against her mother… But as for me, I will look to the Lord; I will wait for the God of my salvation; my God will hear me. (Mic 7:6-7)

How much good it does us to love one another, in spite of everything. Yes, in spite of everything! Saint Paul's exhortation is directed to each of us: "Do not be overcome by evil, but overcome evil with good" (Rom 12:21). And again: "Let us not grow weary in doing what is right" (Gal 6:9). We all have our likes and dislikes, and perhaps at this very moment we are angry with someone. At least let us say to the Lord: "Lord, I am angry with this person, with that person. I pray to you for him and for her". To pray for a person with whom I am irritated is a beautiful step forward in love, and an act of evangelization. —POPE FRANCIS, Evangelii Gaudium, n. 101
And remember that no one is more concerned, more at work, more engaged in the salvation of your children than the Heavenly Father who, with you, watches and waits for His little ones to come home…
We know that all things work for good for those who love God… he is patient with you, not wishing that any should perish but that all should come to repentance. (Rom 8:28; 2 Pet 3:9)
RELATED READING:
*A reminder that The Now Word is published from Monday to Saturday.
Have you read Mark's latest article, Snow in Cairo?
To receive The Now Word,
click on the banner below to subscribe.
Your email will not be shared with anyone.


Spiritual Food for Thought is a full-time apostolate.
Thanks for your support!

Join Mark on Facebook and Twitter!