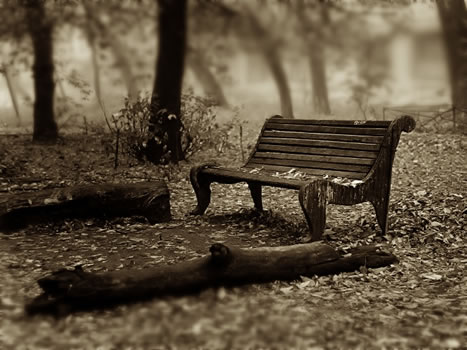 O LORD, we were once companions.
You and I,
walking hand in hand in the garden of my heart.
But now, where are you my Lord?
I seek you,
but find only the faded corners where once we loved
and you revealed to me your secrets.
There too, I found your Mother
and felt her intimate touch to my brow.
But now, where are you?
Indeed, I left,
but have returned,
and the garden, once lush, has become brown and sterile,
dusty and desolate,

adorned only by dried leaves and bare twigs…
and the fleeting shadows of memory.
It is my fault—mea culpa.
It is my sin, my choices, my rebellion, my doubt, my failure
that has destroyed the garden of my heart.
I have invited you back—but hear only the wind,
mingled with tears for what once was,
but is no more.
For my beloved is gone,
and with Him, all peace, all hope, all joy.
And so,
I will sit here upon the stone cold bench of
truth and reality,
and
wait.
Perhaps, He will come,
and the desert of my heart will become a
garden
again.
~~~~~~~~~~~
My child—my lover.
Where have I gone but to the center of the garden,
the center of your heart?
There I await you, to find Me where I am.
You seek Me in the corners, that is, the consolations that once were.
But now I draw you deeper,
deeper
into
the
center
where there lies a hidden Oasis.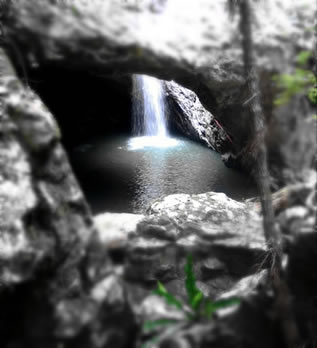 I am that Oasis, disguised beneath the fallen leaves and tall grasses.
Come to the center of your heart.
Come to the place of naked truth
where there are no more corners to hide,
no side-paths to escape,
no benches to rest—
but only the deep pool of My unfathomable love.
Come, fall into this pool,
into the Abyss of my Merciful Heart.
Yes, leave behind now the supports and expectations of yesterday
and
plunge
into
the
depths
of the
Unknown
where one sees without seeing,
knows without knowing,
and loves without, at times, feeling love.
The pool of My Heart, within the inner garden of your soul,
is the true resting place.

See, I have not abandoned you,
but have led you into the depths of your own heart united to Mine.
My heart, the center of your heart—your heart, the center of Mine.
Here now, My child, it is time to go deeper,
to
leave
behind
that which can no longer help but hinder your soul
from
divine union with Me.
Do not linger any longer in the places where once we met,
for I am not there…
…and you will not find the One for whom you long.
But My child,
Here I am,
in the
center
of your heart,
hidden not from your spirit,
but mind and soul (it must be so, for now).
Enter through the gate of faith,
lifting the handle of trust,
and plunge your whole being into the abyss
of My love and mercy.
And we will love more than ever before…
We continue to climb toward the goal of 1000 people donating $10/month and are at about 60% of the way there.
Thanks for your support for this full time ministry.

Join Mark on Facebook and Twitter!