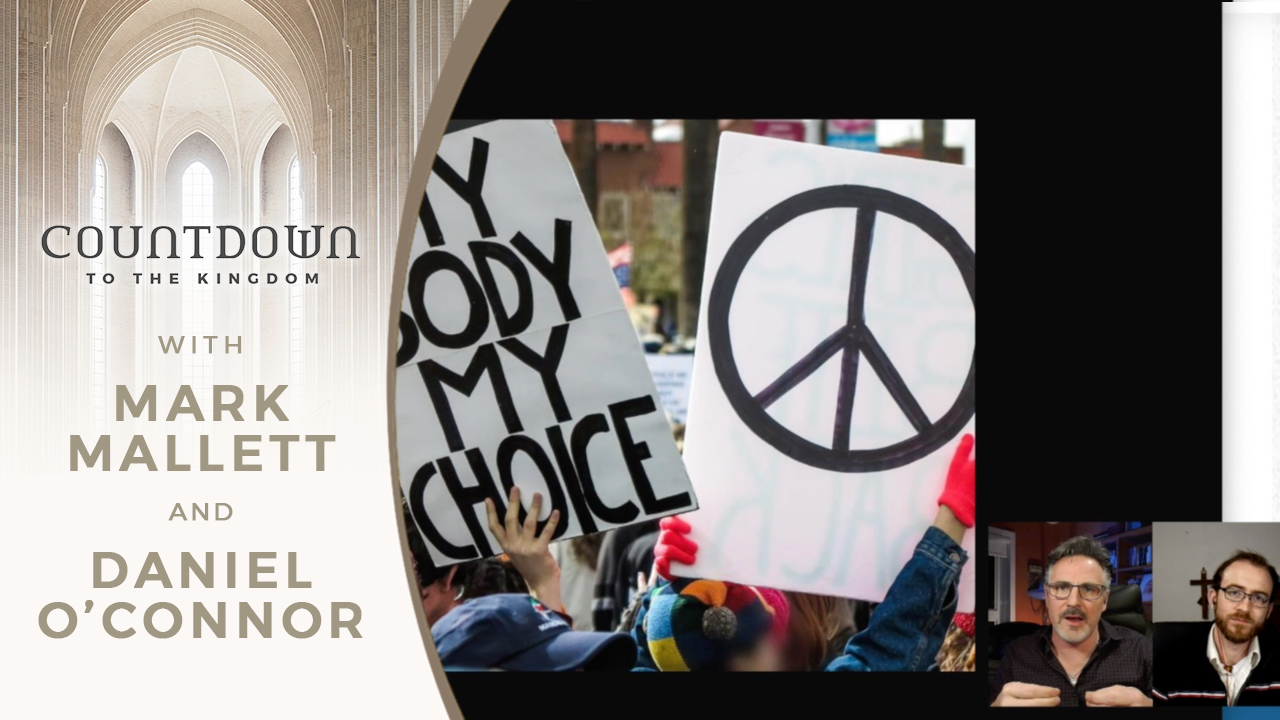 LORI Kalner lived through Hitler's regime. When she heard classrooms of children beginning to sing songs of praise for Obama and his call for "Change" (listen here and here), it set off alarms and memories of the eerie years of Hitler's transformation of Germany society. Today, we see the fruits of the "politics of Death", echoed throughout the world by "progressive leaders" over the past five decades and now reaching their devastating pinnacle, particularly under the presidency of "Catholic" Joe Biden", Prime Minister Justin Trudeau, and many other leaders throughout the Western World and beyond. 
Below Lori's testimony is a followup broadcast to Mark Mallett and Prof. Daniel O'Connor's last webcast On Secular Messianism, where they addressed the dangers of putting faith in politicians or the State instead of Jesus Christ. They pick up where they left off and finish with the warning Heaven is sending now to the entire world. 
In Germany, when Hitler came to power, it was a time of terrible financial depression. Money was worth nothing. In Germany people lost homes and jobs, just like in the American Depression in the 1930s…

In those days, in my homeland, Adolph Hitler was elected to power by promising "Change." …So Hitler was elected to power by only 1/3 the popular vote. A coalition of other political parties in parliament made him supreme leader. Then, when he was leader, he disgraced and expelled everyone in parliament who did not go along with him.

Yes. Change came to my homeland as the new leader promised it would.

The teachers in German schools began to teach the children to sing songs in praise of Hitler. This was the beginning of the Hitler Youth movement. It began with praise of the Fuhrer's programs on the lips of innocent children. Hymns in praise of Hitler and his programs were being sung in the schoolrooms and in the play yard. Little girls and boys joined hands and sang these songs as they walked home from school.

My brother came home and told Papa what was happening at school. The political hymns of children proclaimed "Change" was coming to our homeland and the Fuhrer was a leader we could trust. I will never forget my father's face. Grief and fear. He knew that the best propaganda of the Nazis was song on the lips of little children. Soon the children's songs praising the Fuhrer were heard everywhere on the streets and over the radio. "With our Fuhrer to lead us, we can do it! We can change the world!"

Soon after that Papa, a pastor, was turned away from visiting elderly parishioners in hospitals. The people he had come to bring comfort of God's Word, were "no longer there." Where had they vanished to while under nationalized health care? It became an open secret. The elderly and sick began to disappear from hospitals feet first as "mercy killing" became the policy. Children with disabilities and those who had Down syndrome were euthanized. People whispered, "Maybe it is better for them now. Put them out of misery. They are no longer suffering… And, of course, their death is better for the treasury of our nation. Our taxes no longer must be spent to care for such a burden."

And so murder was called mercy.

The government took over private business. Industry and health care were "nationalized." (NA-ZI means National Socialist Party) The businesses of all Jews were seized…. The world and God's word were turned upside down. Hitler promised the people economic Change? Not change. It was, rather, Lucifer's very ancient Delusion leading to Destruction.

What began with the propaganda of children singing a catchy tune ended in the deaths of millions of children. The reality of what came upon us is so horrible that you in this present generation cannot imagine it …Unless your course of the church in America is spiritually changed now, returning to the Lord, there are new horrors yet to come. I trembled last night when I heard the voices of American children raised in song, praising the name of Obama, the charismatic fellow who claims he is the American Messiah. Yet I have heard what this man Obama says about abortion and the "mercy killing" of tiny babies who are not wanted.

There are so few of us left to warn you. I have heard that there are 69 million Catholics in America and 70 million Evangelical Christians. Where are your voices? Where is your outrage? Where is passion and your vote? Do you vote based on an abortionist's empty promises and economics? Or do you vote according to the Bible?

Thus says the Lord about every living child still in the womb… "Before I formed you in the womb I knew you, and before you were born I consecrated you…"

…I have experienced the signs of the politics of Death in my youth. I see them again now…—Lori Kalner, wicatholicmusings.blogspot.com
Watch;
Listen:
RELATED READING
 Bless you and thank you. 

Join me now on MeWe:

To journey with Mark in The Now Word,
click on the banner below to subscribe.
Your email will not be shared with anyone.