THE NOW WORD ON MASS READINGS
for December 2nd, 2013
Liturgical texts here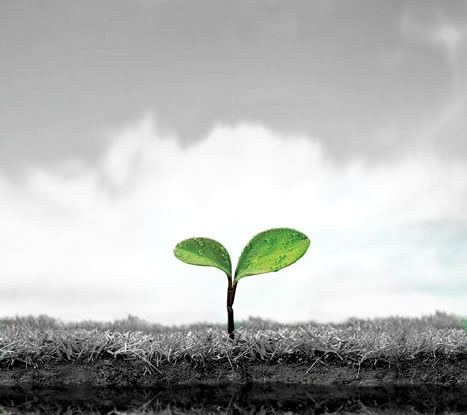 THERE are some texts in Scripture that, admittedly, are troubling to read. Today's first reading contains one of them. It speaks of a coming time when the Lord will wash away "the filth of the daughters of Zion", leaving behind a branch, a people, who are His "luster and glory."
…the fruit of the earth will be honor and splendor for the survivors of Israel. He who remains in Zion and he who is left in Jerusalem will be called holy: every one marked down for life in Jerusalem. (Isaiah 4:3)
Zion, or the "city of David" has come to symbolize the Church in the New Testament as the new "city of God." St. John, like Isaiah, speaks of a remnant that has been "marked" by God and thus preserved in the last days to "sing a new song":
Then I looked and there was the Lamb standing on Mount Zion, and with him a hundred and forty-four thousand who had his name and his Father's name written on their foreheads… these are the ones who follow the Lamb wherever he goes. (Rev 14:1-4)
Two questions arise: what is the "filth" spoken of, and just exactly what do the survivors or remnant survive from?
Before being elected pope, Cardinal Joseph Ratzinger, in a Good Friday meditation, identified the "filth" saying that "Christ suffers in his own church" from…
…the falling of many Christians away from Christ and into a godless secularism… How much filth there is in the church, and even among those who, in the priesthood, ought to belong entirely to him. —Cardinal Ratzinger, Good Friday, March 25th, 2005; Catholic News Service, April 19th, 2005
Again, we hear the theme of a "falling" away of Christians, one that Popes Piux X, Paul VI, and Francis have referred to as an "apostasy." [1]cf. Why Aren't the Popes Shouting? What the remnant are preserved from, first and foremost then, is the loss of their faith because of their childlike trust in following Jesus:
Because you have kept my word of patient endurance, I will keep you from the hour of trial which is coming on the whole world, to try those who dwell upon the earth. I am coming soon; hold fast what you have… I will write on him the name of my God, and the name of the city of my God… (Rev 3:10-12)
But there is a secondary aspect of preservation, and that is from the chastisements that God uses to literally purify the world of wickedness, ushering in an era of true peace and justice when the Gospel will reach to the ends of the earth before the end of time. [2]cf. The Last Judgements and Faustina, and the Day of the Lord Of this purgation of the world, before the end of time, both the Old and New Testaments are clear that God will both remove the wicked, and at the same time, leave a purified people in His midst who live and reign with Him according to the Divine Will. The prophet Zephaniah writes,
For my decision is to gather nations, to assemble kingdoms, to pour out upon them my indignation, all the heat of my anger; for in the fire of my jealous wrath all the earth shall be consumed. "Yea, at that time I will change the speech of the peoples to a pure speech, that all of them may call on the name of the Lord and serve him with one accord…" (Zeph 3:8-9)
In yesterday's Gospel, Jesus warns that judgment will come like a thief in the night:
Then two men will be in the field; one is taken and one is left. (Matt 24:40)
In the Book of Revelation, St. John is more specific as to who is purified from the earth: those who were not marked by the angels, but rather, who took the "mark of the beast":
From [Jesus'] mouth issues a sharp sword with which to smite the nations… And the beast was captured, and with it the false prophet who in its presence had worked the signs by which he deceived those who had received the mark of the beast and those who worshiped its image… the rest were slain by the sword of him who sits upon the horse, the sword that issues from his mouth. (Rev 19:15, 20-21)
The prophet Zechariah gives a tally, prophesying that, "in all the land… two thirds of them will be cut off and perish, and one third will be left." Of these,
I will bring the one third through the fire; I will refine them as one refines silver, and I will test them as one tests gold. They will call upon my name, and I will answer them; I will say, "They are my people," and they will say, "The Lord is my God." (Zech 13:8-9)
As I said in the beginning, these can be disturbing texts to read—so much so, that to even draw attention to them risks throwing oneself into the "doom and gloom" category. But far be it from me to censor Scripture or to, as St. Paul says, "despise prophecy," especially when it has garnered official Church approval. For instance, the approved words of Our Lady of Akita in the 1970's:
As I told you, if men do not repent and better themselves, the Father will inflict a terrible punishment on all humanity. It will be a punishment greater than the deluge, such as one will never have seen before. Fire will fall from the sky and will wipe out a great part of humanity, the good as well as the bad, sparing neither priests nor faithful.  —Blessed Virgin Mary at Akita, Japan, October 13th, 1973; approved as worthy of belief by Cardinal Joseph Ratzinger (POPE BENEDICT XVI) while he was head of the Congregation for the Doctrine of the Faith
And then there is this prophecy, which was included in a recent doctoral thesis summarizing the teachings of Servant of God Luisa Piccarreta, and which bears the Vatican University's seals of approval as well as ecclesiastical approval.
"God will purge the earth with chastisements, and a great part of the current generation will be destroyed", but [Jesus] also affirms that "chastisements do not approach those individuals who receive the great Gift of Living in the Divine Will", for God "protects them and the places where they reside". —excerpt from The Gift of Living in the Divine Will in the Writings of Luisa Piccarreta, Rev. Dr. Joseph L. Iannuzzi, S.T.D., Ph.D
If you notice in the Scriptures quoted above, we hear repeatedly an echo of the first reading this past Saturday on the Feast of St. Andrew:
For everyone who calls on the name of the Lord will be saved. (Rom 10:13)
Jesus, I trust in You! It is not God's desire to punish mankind, but to heal us and deliver us from the terrible sorrows we are bringing upon ourselves.
I do not want to punish aching mankind, but I desire to heal it, pressing it to My Merciful Heart. I use punishment when they themselves force Me to do so; My hand is reluctant to take hold of the sword of justice. Before the Day of Justice I am sending the Day of Mercy.  —Jesus to St. Faustina, Divine Mercy in My Soul, Diary, n. 1588
Thus, in today's Gospel, we see what happens when one—even if he has been a pagan—calls upon Jesus in faith, and how the Lord responds:
"Lord, I am not worthy to have you come under my roof; but only say the word, and my servant will be healed"… When Jesus heard him, he marveled, and said to those who followed him, "Truly, I say to you, not even in Israel have I found such faith…" And to the centurion Jesus said, "Go; be it done for you as you have believed." And the servant was healed at that very moment. (Matt 8)
The twofold response to these troubling prophecies of purification, then, is not to focus on what is coming (for it could be decades from now), but what we should be doing now (for Jesus may come for you this very night!). First, we need to make sure that we are keeping His "word of patient endurance." If not, then make haste to Confession, call on His Name, and begin again! [3]cf. Confession… Necessary? and Weekly Confession Jesus is waiting, thirsting, to press you to His Merciful Heart. Second, we need to become "centurions" today, praying for and interceding not only for our loved ones, but the whole world. Everyday, I pray that Jesus will save sinners, especially those who are dying and who don't know Him. There is no more powerful way to do this than the Chaplet of Divine Mercy.
And Jesus, who is infinitely good, patient, and merciful, will answer your prayers "as you have believed."
RELATED READING:
To receive The Now Word,
click on the banner below to subscribe.
Your email will not be shared with anyone.


Spiritual Food for Thought is a full-time apostolate.
Thanks for your support!