THE NOW WORD ON MASS READINGS
for December 12th, 2013
Feast of Our Lady of Guadalupe
Liturgical texts here
(Selected: Rev 11:19a, 12:1-6a, 10ab; Judith 13; Luke 1:39-47)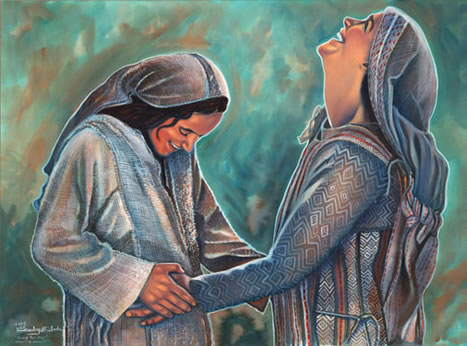 Jump for Joy, by Corby Eisbacher
SOMETIMES when I'm speaking at conferences, I will look into the crowd and ask them, "Do you want to fulfill a 2000 year old prophecy, right here, right now?" The response is usually an excited yes! Then I'd say, "Pray with me the words":
Hail Mary, full of grace, the Lord is with thee, blessed art thou among women, and blessed is the fruit of thy womb, Jesus…
With that then, we fulfilled the Word of God. For Mary exclaims in her Magnificat, "Behold, from now on all ages will call me blessed." So, whenever we repeat her cousin Elizabeth's words, "blessed are you among women", we are fulfilling Mary's prophecy that "all ages" will call her blessed. Many Catholics fulfill the "Blessed Prophecy" some 50 times a day with the Rosary! While many evangelical sects will have nothing to do with Mary, not so Martin Luther, the father of Protestantism.
No woman is like you. You are more than Eve or Sarah, blessed above all nobility, wisdom, and sanctity…. One should honor Mary as she herself wished and as she expressed it in the Magnificat. She praised God for his deeds. How then can we praise her? The true honor of Mary is the honor of God, the praise of God's grace… Mary does not wish that we come to her, but through her to God. —Martin Luther, Sermon, Feast of the Visitation, 1537; Explanation of the Magnificat, 1521)
Luther also acknowledged another prophetic aspect of Mary's role that we see in today's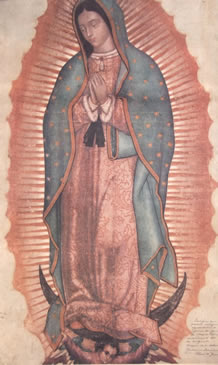 readings on this Feast of Our Lady of Guadalupe. Her image miraculously appeared on the tilma [1]cloak of St. Juan Diego in 1531. In that image, which is an "icon" of today's first reading from Revelation 12, she is wearing a black sash around her waist. In the Mayan culture of that day, it was a symbol of pregnancy.
The Blessed Virgin Mary is a mother. And by virtue of her fiat, she became mother of the whole Church.
Mary is not only the model and figure of the Church; she is much more. For "with maternal love she cooperates in the birth and development" of the sons and daughters of Mother Church. —BLESSED JOHN PAUL II, Redemptoris Mater, n. 44
The first to acknowledge this reality was her cousin Elizabeth, as we hear in today's Gospel:
And how does this happen to me, that the mother of my Lord should come to me?
The first to benefit of this grace was John the Baptist:
…at the moment the sound of your greeting reached my ears, the infant in my womb leaped for joy. (Luke 1:44)
By acknowledging that Mary was the Mother of God (for Jesus took His flesh from her flesh), Elizabeth also signals the spiritual motherhood of Mary. For she is mother, not only of the Head who is Christ, but of His body as well, which is the Church.
Being obedient she became the cause of salvation for herself and for the whole human race… Comparing her with Eve, the [Church Fathers] call Mary "the Mother of the living" (Gen 3:20) and frequently claim: "Death through Eve, life through Mary." —Catechism of the Catholic Church, n. 494
Devotion to Mary and fulfillment of the Blessed Prophecy began in the early Church. As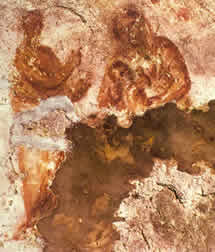 early as the end of the first century to the first half of the second century, Mary is depicted in frescos in the Roman catacombs both with and without her divine Son. [2]Dr. Mark Miravalle, "Mary in the Early Church", piercedhearts.org Yes, that infant Church, on fire with the Holy Spirit and radically devoted to Christ… was also devoted to the "spouse of the Holy Spirit," Mary, their mother.
But the motherhood of Mary is traced back even further to Genesis where God says to the serpent:
I will put enmity between you and the woman, and between your offspring and hers… To the woman he said: I will intensify your toil in childbearing; in pain you shall bring forth children. (Gen 3:15-16)
Fast-forward to the presentation of baby Jesus in the temple, [3]Lk 2:22-38 and we hear Simeon echo the "labor pains" that the New Eve was going to suffer: "and you yourself a sword will pierce." [4]Luke 2:35 Those pains, not only for her Son, but for her spiritual children, began most profoundly beneath the Cross:
"Woman, behold, your son." Then [Jesus] said to the disciple, "Behold, your mother." (John 19:26-27)
And of course, she suffers even now as she labors to give birth to all her offspring. But how does someone who is already enjoying the beatitude of Heaven still suffer? Because she has compassion. Love does not cease to be compassionate in Heaven, but intensifies with an ever-growing wisdom, understanding, and light enjoined to an eternal perspective and quality that dispels all possibility of fear and darkness. Thus, she is able to love and be present to us in ways she never could while still on earth. And this serves only to increase Satan's hatred of her who will "crush his head." [5]The Latin reads, "I will put enmity between you and the woman, and your seed and her seed: she shall crush your head, and you shall lie in wait for her heel. [Gen 3:15 Douay-Rheims]. "The sense is the same: for it is by her seed, Jesus Christ, that the woman crushes the serpent's head." —Douay-Rheims, Footnote, p. 8; Baronius Press Limited, London, 2003
The Lord struck him down by the hand of a female! (Judith 13:15)
As St. John recounts at the end of chapter twelve of Revelation:
…the dragon became angry with the woman and went off to wage war against the rest of her offspring, those who keep God's commandments and bear witness to Jesus. (Rev 12:17)

This Woman represents Mary, the Mother of the Redeemer, but she represents at the same time the whole Church, the People of God of all times, the Church that at all times, with great pain, again gives birth to Christ. —POPE BENEDICT XVI, Castel Gandolfo, Italy, AUG. 23, 2006; Zenit
We have then in Mary not only a beautiful witness, but a loving Mother who this day is laboring, with the Church, to help you and I to become holy; to become a saint; to become who we were created to be. This Woman-Church combo is the fount of grace flowing from the Heart of Jesus. Reach out to your Mother's hand then with renewed confidence—she who in turn is holding the hand of her Son from whom all "grace", motherhood, and blessedness has been bestowed. And what flows from His hand will flow, through hers, to yours… until your hand firmly rests in His.
Mary's function as mother of men in no way obscures or diminishes this unique mediation of Christ, but rather shows its power. But the Blessed Virgin's salutary influence on men… flows forth from the superabundance of the merits of Christ, rests on his mediation, depends entirely on it, and draws all its power from it. —Catechism of the Catholic Church, n. 970

Blessed are you, daughter, by the Most High God, above all the women on earth; and blessed be the Lord God, the creator of heaven and earth. (Judith 13:18)
RELATED READING: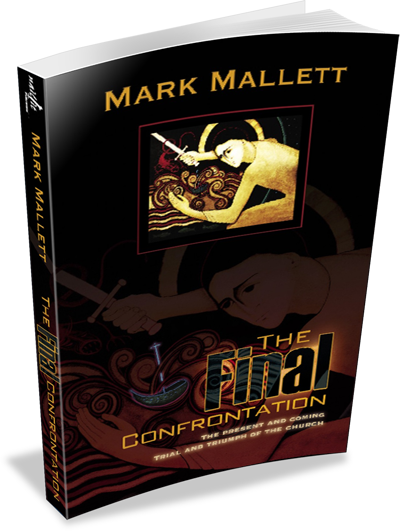 Understand more how Our Lady of Guadalupe is playing a key role in what John Paul II called "the final confrontation" of our era, in the Third Edition of Mark's book, The Final Confrontation. Learn more about:
The stars on Our Lady's tilma and how they match the morning sky on December 12th, 1531 when she appeared to St. Juan Diego, and how they carry a "prophetic word" for our times


Other miracles of the tilma that science cannot explain

What the early Church Fathers had to say about the Antichrist and the so-called "era of peace"

How we are not coming to the end of the world, but the end of our era according to the popes and Church Fathers

Mark's powerful encounter with the Lord while singing the Sanctus, and how it launched this writing ministry.
ORDER NOW
and receive 50% off until December 13th
See details here.
MORE RELATED READING from Mark:
RECEIVE 50% OFF of Mark's music, book,
and family original art until December 13th!
See here for details.
To receive The Now Word,
click on the banner below to subscribe.
Your email will not be shared with anyone.


Spiritual Food for Thought is a full-time apostolate.
Thanks for your support!

Join Mark on Facebook and Twitter!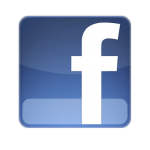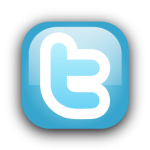 Footnotes

↑

1
cloak

↑

2
Dr. Mark Miravalle, "Mary in the Early Church", piercedhearts.org

↑

3
Lk 2:22-38

↑

4
Luke 2:35

↑

5
The Latin reads, "I will put enmity between you and the woman, and your seed and her seed: she shall crush your head, and you shall lie in wait for her heel. [Gen 3:15 Douay-Rheims]. "The sense is the same: for it is by her seed, Jesus Christ, that the woman crushes the serpent's head." —Douay-Rheims, Footnote, p. 8; Baronius Press Limited, London, 2003