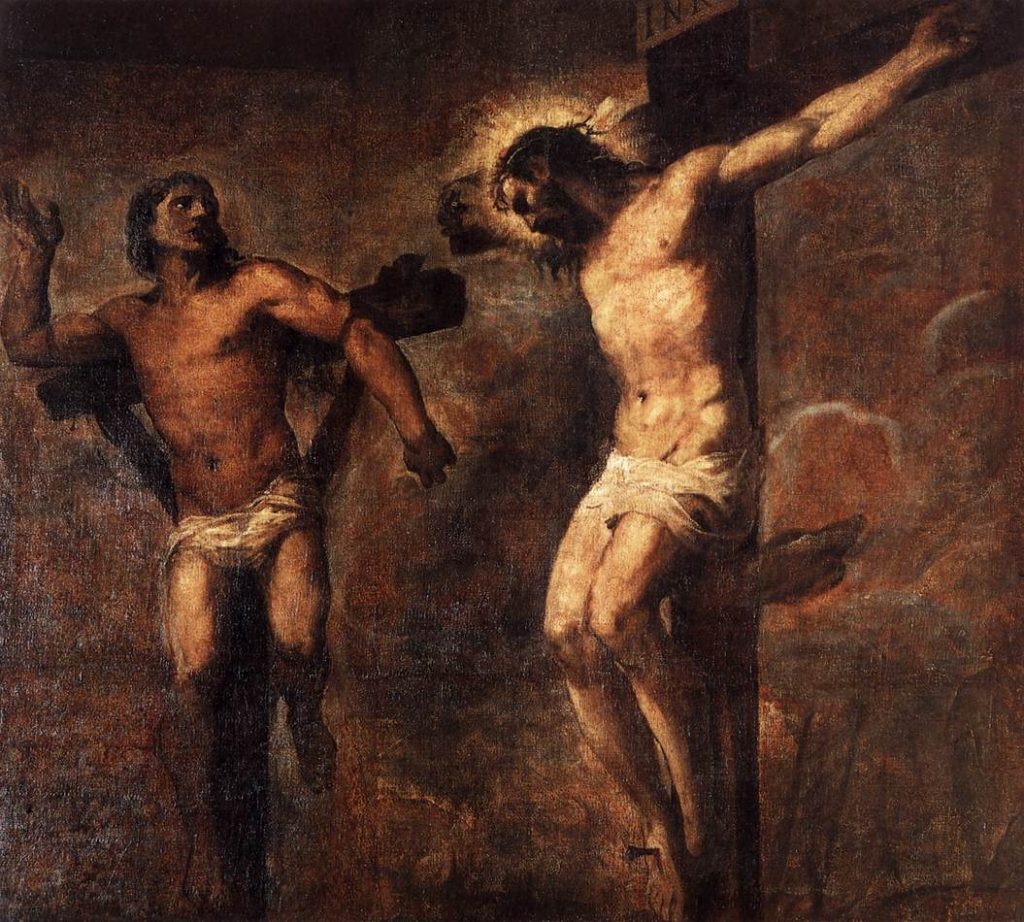 Christ and the Good Thief, Titian (Tiziano Vecellio), c. 1566
THERE is so much confusion today as to what "love" and "mercy" and "compassion" mean. So much so that even the Church in many places has lost her clarity, the force of truth that at once beckons sinners and repels them. This is no more evident than at that moment on Calvary when God shares the shame of two thieves…
MERCY REVEALED
One of the two thieves crucified with Jesus mocked Him:
"Are you not the Messiah? Save yourself and us." The other [thief], however, rebuking him, said in reply, "Have you no fear of God, for you are subject to the same condemnation? And indeed, we have been condemned justly, for the sentence we received corresponds to our crimes, but this man has done nothing criminal." Then he said, "Jesus, remember me when you come into your kingdom." He replied to him, "Amen, I say to you, today you will be with me in Paradise." (John 23:39-43)
Here we stand in awe, in profound silence at what is taking place in this exchange. It is the moment when the Redeemer of mankind begins to apply the merits of His passion and death: Jesus, as it were, claims the first sinner to Himself. It is the moment when God reveals the purpose of His self-sacrificial love: to bestow mercy upon mankind. This is the hour when the heart of God will be rent open and mercy will gush forth like a tidal wave, filling the world like an ocean of unfathomable depth, washing away death and decay and covering over the valleys of dead men's bones. A new world is being born.
And yet, in this moment of mercy that brought billions of angels to a standstill, it is to only one thief that this divine benevolence is granted: "today you will be with me in Paradise." Jesus did not say, "Today, both of you…. but "he replied to him," that is, the second thief. Here we see a principle, a very simple principle that has guided the Church's teaching for 2000 years:
MERCY PRECEDES REPENTANCE—
FORGIVENESS FOLLOWS REPENTANCE
Remember these words; cling to them as you would to a life buoy, for the Spiritual Tsunami of deception racing through the world at this time seeks to capsize this truth, which forms the very hull of the Barque of Peter.
"Mercy precedes repentance"
This is the very heart of the Gospels, the very thrust of Christ's message as He walked along the shores of Galilee: I have come looking for you, the lost sheep.This is the profound prologue to the Love Story that unfolds in each line of the Gospels.
For God so loved the world that he gave his only Son, so that everyone who believes in him might not perish but might have eternal life. For God did not send his Son into the world to condemn the world, but that the world might be saved through him. (John 3:16-17)
This is to say that Love could not wait any longer. The world became like an adulterous bride, but Jesus, like a jealous groom, sought to take his stained and sullied bride back to himself. He did not wait for our repentance; but rather, demonstrating His love for us, stretched out His arms, was pierced for our sins, and rent open His heart as if to say: no matter who you are, no matter how blackened your soul by sin, no matter how far you have fallen away or how terribly you have rebelled… I, who am Love itself, loves you.
God proves his love for us in that while we were still sinners Christ died for us. (Rom 5:8)
So why, then, did Jesus not extend Paradise to the first thief?
"Forgiveness follows repentance"
One cannot call the Gospels a true "Love Story" if there are not two lovers. The power of this Story lies precisely in the freedom in which God made man, a freedom to love his Creator—or not. God becomes man in order to seek out the one who no longer loves Him in order to invite him back into the freedom and happiness of their first embrace… to reconcile. And this is why only the second thief is admitted to Paradise: he is the only one of the two who accepts what he clearly sees before him. And what does he accept? First of all, that He is "condemned justly," that he is a sinner; but also, that Christ is not.
Everyone who acknowledges me before others I will acknowledge before my heavenly Father. But whoever denies me before others, I will deny before my heavenly Father. (Matt 10:32)
It is clear, of course, that both thieves are well aware, more than we might expect, of Jesus' mission. The first thief acknowledges, to a degree, Christ as the Messiah; the second thief acknowledges that Jesus is a King with a "kingdom." But why, then, is only the second thief admitted to the Bridal Chamber? Because to acknowledge Jesus before others means to acknowledge both who He is and who I am, namely, a sinner.
If we acknowledge our sins, he is faithful and just and will forgive our sins and cleanse us from every wrongdoing. If we say, "We have not sinned," we make him a liar, and his word is not in us. (1 John 1:9-10)
Here, John has painted a beautiful picture of the marital bed of the Cross. Christ, the Groom, seeks to "implant" in His Bride the "word" which has the power to beget eternal life. As Jesus said elsewhere: "The words I have spoken to you are spirit and life." [1]John 6:63 In order to "receive" this "word of life", one has to "open up" in faith, letting go of sin, and embracing He who is "truth."
No one who is begotten by God commits sin, because God's seed remains in him; he cannot sin because he is begotten by God. (1 John 3:9)
By his faith in Jesus, the second thief was immersed totally in the mercy of God. You could say that, at that moment, the thief had given up his life of sin, was doing his penance upon the cross, and in a contemplative gaze upon the Face of Love, was already being transformed from within from "glory to glory", as if he were already loving Christ in the only way that is authentic:
If you love me, you will keep my commandments. (John 14:15)
See how rich is the mercy of God!
…love covers a multitude of sins. (John 14:15; 1 Pet 4:8)
But also how God is just.
Whoever believes in the Son has eternal life, but whoever disobeys the Son will not see life, but the wrath of God remains upon him. (John 6:36)
TRUE MERCY
Thus, Jesus demonstrates what true mercy is. It is to love us when we are most unlovable; it is to beckon us when we are most rebellious; it is to seek us when we are most lost; it is to call us
when we are most deaf; it is to die for us when we are already dead in our sin; and to forgive us when we are most unforgivable so that we may be free. 
For freedom Christ set us free; so stand firm and do not submit again to the yoke of slavery. (Gal 5:1)
And we receive the benefits of this mercy, that is freedom, only when we will to be loved; only if we cease to rebel; only if we choose to be found; only when we agree to listen; only when we rise from our sins by asking forgiveness for the unforgivable. Only then, when we begin to return to Him in "spirit and truth", are the doors of Paradise opened to us as well.
Therefore, do not be deceived, beloved friends: only those who turn from their sins—not excuse them like the first thief—are fit for the Kingdom of God.
RELATED READING
Thanks to everyone who has supported
this full-time ministry through
your prayers and gifts.