THE NOW WORD ON MASS READINGS
for Thursday of the First Week of Lent, February 26th, 2015
Liturgical texts here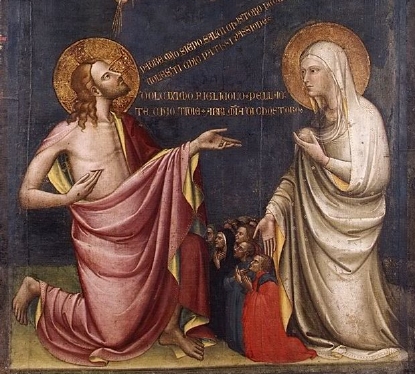 The Intercession of Christ and the Virgin, attributed to Lorenzo Monaco, (1370–1425)
WHEN we speak of a "last chance" for the world, it is because we are talking about an "incurable evil." Sin has so entwined itself in men's affairs, so corrupted the very foundations of not only economics and politics but also the food chain, medicine, and the environment, that nothing short of cosmic surgery [1]cf. The Cosmic Surgery is necessary. As the Psalmist says,
If foundations are destroyed, what can the just one do? (Psalm 11:3)
This was also the view of St. John Paul II in that candid interview with pilgrims in Germany:
We must be prepared to undergo great trials in the not-too-distant future; trials that will require us to be ready to give up even our lives, and a total gift of self to Christ and for Christ. Through your prayers and mine, it is possible to alleviate this tribulation, but it is no longer possible to avert it, because it is only in this way that the Church can be effectively renewed. How many times, indeed, has the renewal of the Church been effected in blood? This time, again, it will not be otherwise. We must be strong, we must prepare ourselves, we must entrust ourselves to Christ and to His Mother, and we must be attentive, very attentive, to the prayer of the Rosary. —POPE JOHN PAUL II, interview with Catholics at Fulda, Germany, Nov. 1980; www.ewtn.com
We read yesterday about Nineveh's response to God. They indeed repented and so God relented—for a time… for the people fell back into serious sin. Decades later, Nineveh was eventually destroyed shortly before the prophet Nahum issued a final warning:
The Lord is slow to anger, yet great in power; the Lord will not leave the guilty unpunished. In stormwind and tempest he comes… (Nahum 1:3)
And now, in our times, a Great Storm [2]cf. Seven Seals of Revolution is here and coming—a tempest that, when it is finished, will leave the earth forever changed. Appealing on our behalf is the Mother of God, prefigured in Queen Esther:
Save us from the hand of our enemies; turn our mourning into gladness and our sorrows into wholeness. (Today's first reading)
In today's Gospel, Jesus tells us to "Ask and it will be given to you." Our Lady's prayers are heard because she always prays in the will of God.
We have this confidence in him, that if we ask anything according to his will, he hears us. (1 John 5:14)
Who can calculate the effects of her intercession, the time it has bought us, the mercy is has won through our great Mediator, Jesus Christ? For…
Which one of you would hand his son a stone when he asked for a loaf of bread… how much more will your heavenly Father give good things to those who ask him. (Today's Gospel)
Surely, the words of today's Psalm must be on her lips: I will give thanks to you, O Lord, with all my heart, for you have heard the words of my mouth. So too, then, should we constantly offer not only our thanks, but also our prayer and fasting for the conversion of the world, especially this Lent.
But there will come a moment when this time of grace and mercy will end; when the only remedy for this world will be chastisement. And then our Mother will pray for God's mercy in chaos. For His justice is also merciful…
The greatest mercy of God is not to let those nations remain in peace with each other who are not at peace with Him. —St. Pio of Pietrelcina, My Daily Catholic Bible, p. 1482
Therefore, as the end of this world approaches, the condition of human affairs must undergo a change, and through the prevalence of wickedness become worse; so that now these times of ours, in which iniquity and impiety have increased even to the highest degree, may be judged happy and almost golden in comparison of that incurable evil. —Lactantius, Fathers of the Church: The Divine Institutes, Book VII, Chapter 15, Catholic Encyclopedia; www.newadvent.org
Thanks for your support!

To subscribe, click here.
Spend 5 minutes a day with Mark, meditating upon the daily Now Word in the Mass readings
for these forty days of Lent.

A sacrifice that will feed your soul!
SUBSCRIBE here.